Health Minister Hoffman gets to know more about Medicus, the clinic with `malasakit'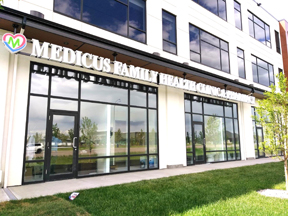 By:  Moses Billacura, Edmonton
EDMONTON — Alberta Province's Minister of Health Sarah Hoffman received a warm welcome from Medicus Family Health Clinic and Pharmacy owners and staff and some members from various Filipino organizations, March 23, here.
"What an honor to see a beautiful clinic and for the chance to see health care in a different facet, serving different populations," said Minister Hoffman, who is also Deputy Premier of the province.
Medicus co-founder Kris Salumbides informed the minister that their facility is not limited to the Filipino population and it is open to all Albertans. "Medicus is known in the community for its "malasakit" in serving our patients," he said.
Co-owner Jacob Christian was also proud to inform Hoffman that they were able to hire hard-working and competent staff to serve Albertans. He and Salumbides in the later part of the visit provided Hoffman a tour of the clinic.
Medicus Clinic started in June last year with currently four doctors and Salumbides said two more doctors are joining them.