BAMBOO, THE PRINCE OF PHILIPPINE ROCK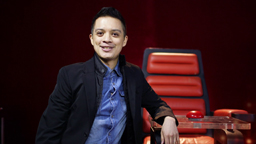 In less than 3 weeks, we will witness once again how BAMBOO will rock Calgary on May 5, 2018 at the Glenmore Inn and Convention Centre.  He was once the frontman of the defunct RIVERMAYA and when he decided to go solo, he made the right decision.  To this date, all his concerts have been sold out wherever he goes on tour.  So don't miss out on this once of a lifetime concert, get your tickets now!!!  Check the poster on page 5 and call one of the ticketsellers for your ticket requirements.  And for those who are not familiar with BAMBOO, here is a short backgrounder about The Prince of Philippine Rock/
In 2012, Mañalac released his debut album, No Water, No Moon, under the label of PolyEast Records. The album consists 12 tracks with "Questions" as its carrier single. The album reached gold record in February 2013 after selling more than 7,500 copies.
On February 10, 2013, during an appearance on the last episode of Sarah G. Live, Bamboo Mañalac hinted that he would be working with Sarah Geronimo after they both finished performing a production number together. On February 14, 2013, ABS-CBN aired a promotional plug during the airtime of the pre-primetime television drama Kahit Konting Pagtingin, confirming Bamboo Mañalac's stint in The Voice of the Philippines as coach and judge. In an interview made by ABS-CBN News, Mañalac provided a statement regarding his stint on the show, "I'm ready to be a coach. There's a time for everything and this is it."When asked on what kind of artist will he would like to coach, he said, "I've been listening to rock for a long time but I also listen to other genres from rock to pop to folk to everything. I want someone who is open to all kinds of music; someone who is willing to listen and willing to learn."
Bamboo, alongside Sarah Geronimo, and Lea Salonga returned as coaches for The Voice Kids Philippines from 2014 to present.
In October 2015, four years after the release of his first album, Bamboo released his second solo album entitled Bless this Mess. The 10-track album was recorded in Grand Street Recording Studio, Brooklyn, New York.
Source:  Wikipedia