Labor chief warns Boracay employers: Do not terminate employees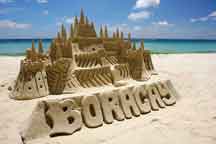 Labor Secretary Silvestre Bello has warned establishments in Boracay against terminating their employees during the six-month closure of the resort island starting April 26.
In an advisory on Monday, Bello said the "temporary suspension of business operations should not and must not result in the termination or separation of any employee."
While saying the closure of Boracay as ordered by President Rodrigo Duterte will necessarily compel the temporary suspension of business operations, Bello notified employers they may only "observe the principle of No Work, No Pay, or require the employees to go on forced leave by utilizing their leave credits, if any."
"Employees are expected to be recalled back to work upon the lifting of the temporary closure of Boracay Island," Bello stressed.
The labor advisory is for "strict observance and compliance," he added.
Bello earlier said the labor department will extend assistance to affected workers in the world-famous island, including the provision of emergency employment.
He said some 5,000 informal sector workers and members of the indigenous community in the island will be employed in the clean-up of the area.
He also said that the agency has set aside an initial P60 million for the emergency employment assistance.