MISS EARTH ALBERTA 2018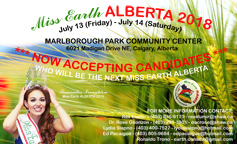 Are you a young woman who would like to be a spokesperson for environmental issues and a role model for your community, you could be the next Miss Earth Alberta. Miss Earth Alberta is a franchise of the Miss Earth Canada & Miss Earth pageant system and it is being produced by the Visminsa Charities Foundation. Miss Earth Pageant is an international environmental event channeling the beauty pageant entertainment industry as an effective tool to promote environmental awareness.
Miss Earth continues to build its reputation as the most relevant and worthwhile pageant event in the world, setting a legacy of beauty and responsibility. Miss Earth Pageant is one of the three major pageantry in the world today in term of number of country participating.
Miss Earth Alberta is looking for young women that can follow the ideals set out by the Miss Earth Canada Organization. The young women who join us have great ideals and aspirations in their quest and concern over the preservation of the planet. They are given the opportunity to highlight those goals through local events. The main objective of this pageant is to invite talented young ladies to a yearly competition where they will share their thoughts and concern for the preservation of the planet. It is also an opportunity to enjoy fellowship and friendship behind the backdrop of multicultural bonding. The Miss Earth Alberta 2018 pageant will be held on Friday, July 13, 2018 and Saturday, July 14, 2018 at the Marlborough Park Community Center. The winner(s) will promote environmental awareness through activities integrated in their daily lives and through local community events.
Potential candidates qualification for Miss Earth Alberta Pageant are as follows; must be single and never been married, between 18 to 26 years of age, having a minimum height of 5'-4", a high school graduate or equivalent and must be a Canadian Citizen who resides in Alberta. A package with all other information will be sent to you should you be interested in competing the Miss Earth Alberta 2018.
Please contact us for more information:
Rex Elumir – (403) 836-0170 – rexelumir@shaw.ca
Dr. RoseMarie Geonzon – (403) 291-3801 – docrose@shaw.ca
Lydia Siapno – (403) 400-7527 – lydiasiapno@hotmail.com
Eduardo (Ed) Pacaigue – (403) 805-9684 – edpacaigue@hotmail.com
Ronaldo (Ron) Trono – earth.canada@gmail.com