BAMBOO…..THE PRINCE OF FILIPINO ROCK MUSIC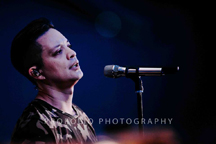 By:  Roberto Ugaddan (DJ Obi)
Last May 5th, the prince of Filipino rock Bamboo wowed the crowd at the Glenmore Inn and Convention Centre with his electrifying performance performing all of his hits from when he was with Rivermaya up to his current hits.
People were dancing and cheering every time his sings a song and not to mention all the fangirls that were swooning over him and shouting their adoration for him. It was an amazing night when Bamboo sang most of his songs from the Rivermaya days. We want Bamboo to come back again soon because he has so many fans here who always want to see him perform!
It was indeed an evening of cool, Pinoy rock music and everyone was very excited to begin with to watch him on stage and once he started his music, everybody were shouting his name and even singing with him because everybody knows most of his hits and they have been following his career and even if this was the 5th time he has been in Calgary, nobody beats BAMBOO's excellent performance on stage.
Below is an excerpt of my radio interview with him on our radio show Pinoy Times in Air 94.7FM airing every Tuesday and Friday.
Me: Bamboo, where did you grow up?
Bamboo: I grew up in San Francisco, California and moved back to the Philippines when I was in my teens and I ended up joining Rivermaya and the rest is history.
Me: How do you keep your voice in tip top shape?
Bamboo: I'm very disciplined with my voice and stay away from things that can affect it negatively because I want to be able to keep performing up to my standards for as long as I can.
Me: What keeps you going?
Bamboo: It's the love of music and being able to create something that people can relate too, also I feel in a way like an ambassador for the Filipino culture whenever I go and do concerts abroad. I feel like I am sharing a part of the Filipino culture.