UPAAA Welcomes New Philippine Consul General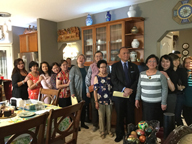 By Consuelo (Chit) E. Munar

It was an evening full of joy, pride and high emotions. Members of the University of the Philippines Alumni Association of Alberta (UPAAA) organized a very warm welcome dinner to newly appointed Consul General Gilberto Asuque (UP College of Law) of the Philippine Consulate in Calgary held last May 11, 2018. Hosted by Froilan and Estela Edillon (P.Eng.) in the upscale community of Westspring, ConGen Asuque and more than three dozen UPAAA members and associates graced the occasion with great exuberance. Most attendees brought their favourite scrumptious dishes and desserts for everyone to enjoy beside the main courses prepared by NayLolits Filipino Flavor kitchenette.
Highlight of the gathering was the emotional singing of the UP Anthem, "UP Beloved/UP Naming Mahal," both in English and Pilipino.
"UP Beloved our Alma Mater dear; for thee United our joyful voices hear. Far tho we wander, O'er island yonder; loyal thy sons we'll ever be; loyal thy son we'll ever be."
The great song resonated, stirred our hearts and shook our core. It's a reminder that there is power in unity and standing strong together. It's also a reminder that we do our very best to be custodians of community or public good. UPians always keep their eyes high. They love to take life challenges bigger than themselves, their bold leadership noticeable.