Celebration of the 120th Anniversary of the Declaration of Philippine Independence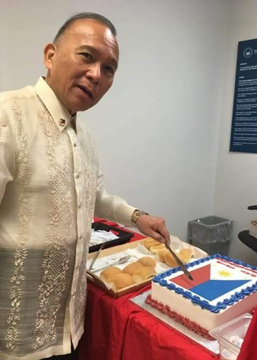 By Consuelo (Chit) E. Munar

Calgary weather predicted light rain for Sunday, June 10. The rain poured early morning but it didn't dampen the Filipino spirit of solidarity in celebrating the 120th anniversary of the proclamation of Philippine Independence held at Calgary's Philippine Consulate General Office in the downtown core of the city.
Leaders and members of various Filipino organizations in Calgary joined the staff of Philippine Consul General Gilberto Asuque in the "flag raising" followed by fellowship with Filipino breakfast of fried rice, langoniza, pandesal, scrambled eggs, smoked cad fish, fried dried fish  (tuyo), beef tapa, coffee and juice held at the  Philippine Consulate General Office. Attendees raised their voices in singing the National Anthem in Pilipino right in the spacious main lobby of the Consulate building. ConGen Asuque delivered a very warm greetings and thanks to the members of the Filipino community in responding to his call of solidarity in the celebration of this historic event. During the program, ConGen Asuque read the message of the Secretary of Foreign Affairs, Honorable Alan Cayetano, which incorporated the vision of President Rodrigo Duterte of a country that is drug free and corruption free. He also envisions the smooth operational functions of various government agencies through the stern implementation of good governance which is a grand and tall order.