Pinay doctor joins Medicus Family Clinic and Pharmacy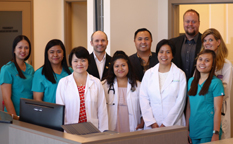 EDMONTON — Dr.Rieza Kristielle Zara has joined the first Filipino co-owned family health clinic, Medicus Family Clinic and Pharmacy.
Zara is a graduate of the University of Alberta in 2015.
The medical facility, known for its "malasakit", formally opened its doors in June last year and has grown to serve not only the Filipino community but other Edmontonians.
"We wanted to answer to the call of our Kababayans to have a clinic where doctors can speak Tagalog and we were able to provide that service to them. Yet Medicus is open to all Edmontonians," said Kris Salumbides, co-founder and marketing director of Medicus.
In a TV interview last February, Salumbides admitted that 10 years ago, he had a hard time expressing his thoughts to a family doctor who cannot speak his own language.
When Salumbides, business partner Jesse Tallon established Quality Sleep Care and Alberta Medical Supplies in 2014, the two companies were able to grow and with the coming in of another business partner Jacob Christian as director of finance, it allowed them to open Medicus Clinic last year. "It's really comfortable for us to talk to a doctor who knows Tagalog," he said.(Moses Billacura)