Duterte to resolve issues of undocumented Pinoys in Jordan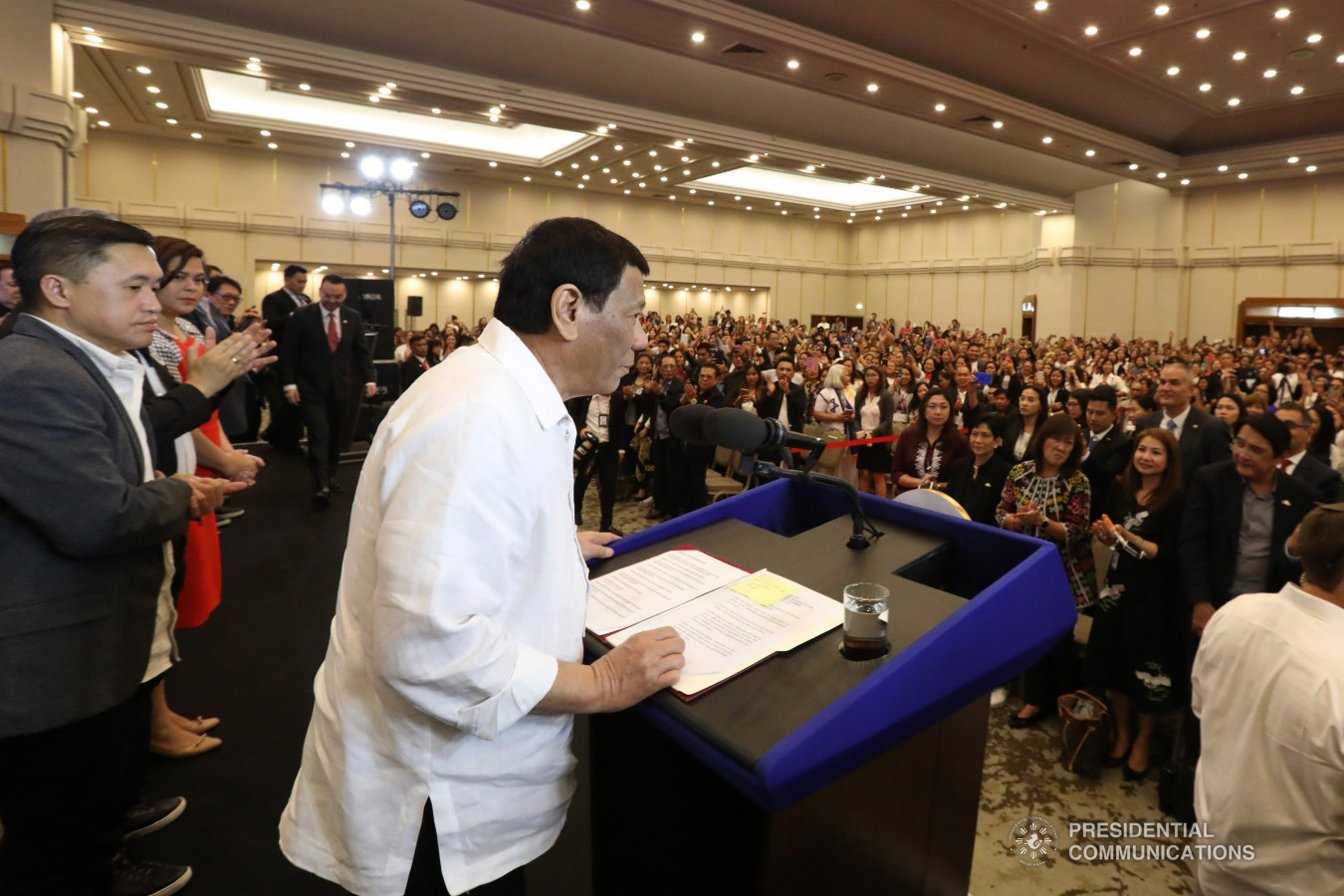 AMMAN, Hashemite Kingdom of Jordan — President Rodrigo Duterte promised to resolve the issue of undocumented Filipinos as soon as possible and will send Foreign Affairs Secretary Alan Peter Cayetano to discuss the issue with the Jordanian government.
In a speech before around 2,000 members of the Filipino community in Amman, Duterte said the Philippine government has talked with the Jordanian government about the undocumented Filipinos in the kingdom during his visit to King Abdullah II Thursday.
Duterte also thanked the Jordanian monarch for inviting him and for graciously hosting the Filipinos in the Kingdom.
"I'd like to thank again the King, His Majesty King Abdullah, for being so kind to invite me and for being kind to my people," he said.
"And one of the things that we talked, hindi sa kanya (not with him), is I will try to find a solution—marami 'yan, itong (there are a lot of them here—) undocumented Filipinos," he added.
Duterte also said that he will send Secretary Cayetano to work on the issue with the Jordanian government. "I hope to work on it right away, nandito man si Alan (anyway Alan is here)," he said.
I will send maybe senator — Senator man kaya ito (he can do it). Secretary Cayetano to fix this thing and baka maayos (maybe this can be resolved)," he added
Duterte also told Filipinos have nothing to hide from authorities in Jordan as King Abdullah II is "a man of his words."
"Isa sa mga rare nakita ko, talagang kung magsalita, makita. You can see the human spirit in his words. (He is one of those rare people that when he speaks, you can see the human spirit in his words)," he said.
According to the Department of Foreign Affairs (DFA), there are around 40,000 Filipinos in Jordan. Duterte had earlier thanked Abdullah for treating Filipinos in the Kingdom as human beings.
During Duterte's historic three-day visit to the kingdom, the Philippines and Jordan were able to ink the Cooperation Framework for Employment of Domestic Workers, and the memorandum of understanding on labor cooperation.
Philippine Ambassador to Jordan Akmad Sakkam described Jordan as a second home for Filipino workers as they have lesser problems in the kingdom.
"The people are good, the people are honorable people and then that [they] look upon our workers also with respect," Sakkam said.