CORONATION OF MS. BARANGAY 2018 OF THE GOLDEN GENERATIONS SENIORS CLUB OF CALGARY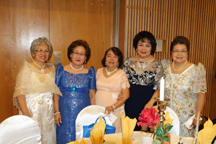 It was another successful event headed by none other than the President of The Golden Generations Seniors Club of Calgary, Mr. Ben Isidro,  which was held last September 22, 2018 at the Polish Canadian Cultural Centre for the Coronation night of Ms. Barangay 2018.
The lucky candidates and their titles are as follows:
Ms. Mutya Letty Gellido / Rajesh Dhakal
Sash: Milet Castillo / Joe Castillo
Trophy: Naida Gellido / Norma Glenworth
Bouquet: Ester Samson /Dolores Pomada
Crown: Rose Flores / Ken Pilling
Ms. Diwata Erlinda Bunoan /Esteban Mendoza
Sash: Myrna See / Nimfa Naz
Trophy: Cleofe Togonon / Mario dela Cruz
Bouquet: Fidel Altamirano/Lota Altamirano
Crown: Josie Mendoza / Bong Rodriguez
Ms. Barangay 2018 Lourdes Umali / Jessie Umali
Sash: Angie Serrano / Ernie Bautista
Trophy: Terry Engco / Rommel Moises
Bouquet: Yolly Patulot / Tommy Umali
Crown: Remy dela Pena / Ben Isidro
A big thank to Ms. Sherissa Celis for being the Master of Ceremonies that night and to her husband Nick Celis who rendered a song number to entertain the audience.  We also want to give a warm round of applause to the GGSC dancers who did a fantastic number of waltz headed by none other than Ms.Aida San Miguel.  Thank you as well to Ms. Alice Labrador who sang the song Kahit Maputi na ang Buhok ko.