Senate OKs bill penalizing catcalling, other forms of street-based harassment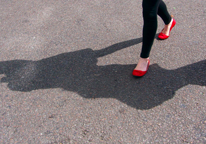 A bill that seeks to protect women from catcalling and other forms of street-based harassment was passed on third and final reading by the Senate Monday.
The measure, Senate Bill No. 1326, the "Safe Streets and Public Spaces Act of 2017,'' seeks to penalize catcalling, wolf-whistling, cursing, leering, groping, persistent requests for name and contact details and the use of words tending to ridicule on the basis of actual or perceived sex, gender expression, or sexual orientation and identity in public spaces.
Opposition Senator Risa Hontiveros is the principal author of the bill.
Hontiveros, chairwoman of the Senate Committee on Women, hailed the passage of the measure calling it "a major push back" against what she called the "growing culture of misogyny and sexism in the country."
"At a time when sexism and misogyny seem to be the new normal, this is an important victory for all women and LGBT persons. This is a major push back against street-based sexual harassment and the culture of sexism in the country. With this measure, we will reclaim the streets from sexual harassers and make them safe for all," she explained.
The lady lawmaker said she is hopeful that her bill would trigger behavioral change among Filipinos.
"Through this measure, we hope to progressively change the people's language habits, prevent different forms of gender-based harassment and convince the public of the positive effects of gender-sensitive expression," Hontiveros said.