Manmeet Singh Bhullar Park officially opens in Calgary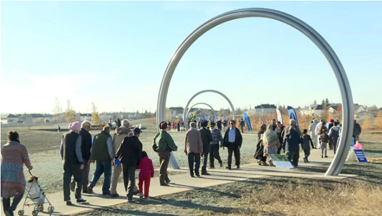 Park honours legacy of Calgary-Greenway MLA killed in 2015 accident
Manmeet Singh Bhullar Park officially opened Saturday, three years after the Calgary-Greenway MLA was killed in a tragic accident while helping others in need.
"We spent the last three years trying to imagine what this would be and I feel so happy because there are so many people around here, they all seem to be enjoying this park, being able to remember Manmeet," said his wife, Namrita Rattan.
The first turbaned Sikh to hold a cabinet position in Alberta, Bhullar stopped to help another motorist who got stuck in bad weather just north of Red Deer in November 2015. He was struck and killed by a passing semi that lost control.
Bhullar was appointed minister of Service Alberta in 2011.
The park — located along the Rotary Mattamy Greenway, near where he lived in northeast Calgary — covers more than five hectares and includes a number of features designed in his honour, said landscape architect Jonathan Sagi.
"We were looking to capture the legacy of a man who really stood for community building and giving the voice to marginalized people," he said.
"He really brought people together and was an advocate for community, so the concept for the park really tries to distil the legacy of a person down into space. We have some shapes, we have arches which stand for strength and integrity, which speak volumes about Manmeet, and groves of trees on the north side of the pathway."
The grove contains five groups of trees intertwined together.
"That really represents his ability to bring people from across all kinds of cultures together," said Sagi.
Another feature is the harvest tables, which can seat up to 20 people.
"He really was a family-oriented person, not only with his family, but his Calgary family, his Alberta family and his Canada family," said Sagi.
"That's what that stands for, a place for the community to come together in fellowship and celebrate."
Premier Rachel Notley tweeted that she wishes the park could have been opened by Bhullar, instead of named after him.
"This park is a tribute to the love, hope and wisdom he brought to serving our province," she wrote.