CHRISTMAS IN MY HEART WITH JOSE MARI CHAN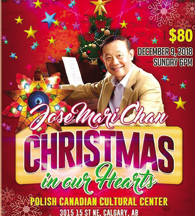 by C.K.
It was a cold evening but it did not matter because everyone is on their way to see the all time favorite singer/songwriter all the way from Manila that night.  He is also dubbed as the "Father of Philippine Christmas Music" because as early as September 1st of every year, his Christmas themed songs are being played in different areas in the Philippines. You can never deny the fact that his name has been associated with the Holiday season, Valentine's day and even Mother's Day because of his music.   It was such a delight for me as well to be present last night to finally see the man behind the songs that are so meaningful when you try to capture the lyrics that he has written.  The concert of MR. JOSE MARI CHAN "CHRISTMASIN MY HEART" was indeed a big hit last night.  People of different ages came to see and listen to him as he serenaded as and started his show going back in time with his very first hit Afterglow. His first long playing album Deep in My Heart was issued in 1969. In 1973, he represented the Philippines in the World Popular Song Festival in Tokyo where his song "Can We Just Stop And Talk Awhile" went into the final entries. He also performed Can We Just Stop and Talk Awhile that was  the theme song of a teleserye with Bea Alonza and Ian Veneracion  A  Love to Last. Aside from serenading the audience, Jose Mari  Chan  also made the audience laugh their hearts out with all his jokes and funny stories.  Everyone was amazed of his sense of humor despite the seriousness that you see in his face.  Another song that will never be forgotten is BEAUTIFUL GIRL.  To feel the spirit ofChristmas he will never miss the song "Christmas in Our Hearts" which is his  most popular holiday song. He also sang the song "Please Be Careful with My Heart" used as the theme for the TV series of ABS-CBN, Be Careful with my Heart.
We can  go on and on but to cut it short, the concert was excellent and it even made it more special with the presence of his wife Mary Ann in the audience. The audience was happy and every one left the hall with smile on their faces and contentment and love in the heart.  It was such a lovely evening listening to  Jose Mari Chan's music and we wished we can have him for a little bit longer.  Indeed his songs have lived for years and years and most of the audience try to sing along with him especially those who are fanatics who knows the lyrics of the song.  Jose Mari Chan's first concert in Calgary is a big hit, we wish he can come back again in the next year to come.
We would like to thank Mr. Hardy del Castillo for trusting Pinoy Times and Pinoy Times on Air 94.7 FM to be one of the media partners.  And congratulations to the producers of the show, Sara and Bill of SGF Travel and Tours from Edmonton.  Congratulations to Laurie Callao Perez, Franz Faeldo, Kate Lyn Trang, Samantha Bartolo, Leah Callao and Kyla Rivera for a wonderful duet with Jose Mari Chan.  And to all those who were part of the production, congratulations on a job well done!