Outstanding Pinoy 2018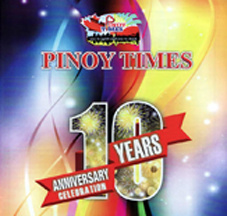 Currently a senior high from St. Mary's High School with anticipated graduation from International Baccalaureate  and Extended French Program, fluent in  English, French and Tagalog, with a whole lot of volunteer experiences with The N ext Generation Leo Club, St. Thomas Moore Parish, St. Mary's High School ,St. Rose of  Lima School  and Kasayahan  Performing Arts to name a few.  She's a consistent honor role student from junior high to  senior high  our OUTSTANDING PINOY FOR YOUTH 2018 is the daughter of Glenn and Raquel Garalde,  none other than Catrina Garalde.
An active member of the Diamond Seniors Club of Calgary, she is  shows how effective she is in delivering her services to the club as the treasurer .  Very patient and full of determination  to carry on  group programs and very result-oriented in fundraising and budgeting.  She is credible, honest, transparent  and an open minded individual.  I would like to present our OUTSTANDING PINOY FOR SENIORS 2018 – TRINI ASHTON.
The next awardee is someone who has passion in what she does.  She started the Markjoel's Lechon in Calgary and has now vetured her business in Saskatoon as well.  To date, Markjoel's is the no.1 in supplying Lechon  not only to  individuals but also to other establishments when Lechon is needed especially in parties.  Aside from that she also got into GOOD VIBES  EVENTS AND ENTERTAINMENT which caters to pageantries.  She is also the president of Lunanians in Calgary which stands for the town where she came from Luna, Isabela.  Our Outstanding Pinoy for Business Award 2018 is none other than Markjoel's Lechon owned by Ms. Fely Batalla.
A board member of the North of McKnight Residents Committee, BABAE. and volunteer at various events  including the ETHNO-CULTURAL COUNCIL OF CALGARY, fiesta filipino  cultural pavilion and graduated
Class of 2011 · Human resource management · from the university of calgary,WE WOULD LIKE TO PRESENT THE PINOY OUTSTANDING AWARD FOR COMMUNITY SERVICE 2018 TO MS. MARIBEL JAVIER.
And last but not the least, our next awardee came to Calgary and took her diploma for Immigration Consultancy from Ashton College.  She's very dedicated and passionate in her job and makes sure that she gets the results she wants for each of her clients.   She's just on her 4th year on the job but has helped a lot of  individuals with their immigration papers.  She used to have an office space in her home but recently opened her office located at  235 2323 32nd Avenue NE Calgary.  Our Outstanding Pinoy for Business 2018 is ONWARD IMMIGRATION AND EMPLOYMENT – MS. RHIA ESCOBILLA-BALON.