Hacking a Pinoy Christmas abroad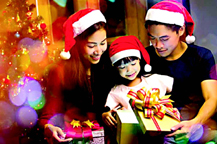 We lived in Singapore for a few years when I was a child. My dad had been offered a job that allowed him to bring us with him. Most Filipinos are not as lucky, and must leave their spouses and children behind for jobs that pay them more than they could ever earn in the Philippines. Unlike the Jewish diaspora, which was caused by invasion, the Filipino diaspora happened for eco­nomic reasons. Manila Archbishop Luis Antonio Cardinal Tagle has said that for Filipinos, the separation of couples or of parents from their children doesn't happen because of conflicts, it happens because they love each other. It is love that forces Filipinos to leave their fami­lies for work that will help them to create better lives for those they leave behind. Because of this, there are Filipinos in every part of the world, bringing with them that which makes us uniquely Fil­ipino—our values, our culture, our food, our religion—to create a small pocket of home, wherever they are.
I was too young to remember much of what we ate, or what we did for Christ­mas, but I do remember my mom making puto and kutsinta. We didn't eat Filipino food beyond adobo and bistek Tagalog, maybe because my mom wasn't really a Filipino cook. But I do remember that big steamer filled with fluffy, white puto. When I was older, she shared that she had learned to make puto using ordinary cake flour because she didn't know where to find galapong (ground rice that has been soaked in water overnight). Like every other Filipino in an unfamiliar country, she had learned to make do.
Making do is probably hardest dur­ing Christmas. The Philippines has the world's longest Christmas season, filled with celebration and reunions, traditions like Simbang Gabi and Noche Buena, and beloved dishes like puto bumbong and lechon. It's difficult to make do and replicate a Filipino Christmas when your family is thousands of kilometers away and there isn't a lechonero to be found anywhere near you. But Filipinos—with their resiliency and their resourceful­ness—find a way.
Food writer Margaux Salcedo talks of the Christmas she spent in Ohio and how she substituted half and half for the evaporated milk that is used to make her Nana Meng's famous tsokolate. Another time, she made a frantic long-distance call because her cousin wanted to roast a lechon: "Nana Meng, ano ulit binubuhos sa lechon? Sprite? (What do you pour over lechon?)"
My classmates, Roni in Brit­ain and Jonef in Ireland have also attempted lechon—fashioning makeshift spits and roasting by trial and error. It took hours, Jonef tells me, and it started to rain before the lechon was done. A whole, cleaned pig isn't easy to find so many people use whole, rolled pork bellies instead.
In Vienna, my friend Anne has man­aged to find substitutes from other cui­sines. "The Serbians sell lechon every day of the week," she says. "I just make the liver sauce." Anne, who trained as a chef, substitutes prosciutto for caul fat to wrap her embutido. And when she is too lazy to make ensaimadas, she buys bri­oche, spreads it with butter, and sprinkles it with sugar and grated Edam cheese.
Other friends settle for making just one or two Filipino dishes that can be cooked with readily available ingredients and cook something non-Filipino for the rest of their meal. In Texas, my friend Cil makes pork embutido because it's a fairly easy recipe. Other than that, she mostly ends up with non-Filipino food. My col­lege friend Maricar works in New York and makes time-consuming molo soup using a recipe from her husband's aunt. She usually opts to make a roast beef or roast lamb for their main course.
Friends who live in areas where there is a large Filipino community say that it is easier for them. They are able to cook using ingredients from Filipino grocery stores or substitutes from Asian groceries. There are also restaurants and caterers that serve Filipino food. In Australia, my friend Gigi is able to order anything from lechon and dinuguan to rellenong bangus. Even kakanin like sapin-sapin and bibingka are available. Asian stores and markets sell popular Filipino brands like Mang Tomas and even vegetables like malunggay and pandan leaves.
The same is true for my cousins in Toronto and Vancouver. Mona, who left the Philippines with her family years ago, says that specialty Filipino grocery stores like Seafood City sell most of the products they need, and they have been able to order lechon and crispy pata for Noche Buena.
Despite that, her mom, my Tita Lottie, will still make specialties like suman from scratch. I would guess that anything homemade tastes better and is cheaper than something bought at a store. "Malaki, malamig, matigas, (big, cold, and hard), and one dollar each!" Margaux says of the suman she found in a Filipino grocery store in New York.
In places like California and London, Filipino fast food joints like Jollibee are available. Helen lives just a few miles away from a large Filipino community that is home to Jollibee, Red Ribbon, Chow King, and Goldilocks, as well as Filipino markets and turo-turo restau­rants. She never has a problem when she craves Filipino food, and she doesn't even have to cook!
Other Filipinos learn to cook from necessity. Roni, in London, couldn't find the Vigan longganisa that she craves whenever she misses home. So she learned to make it for herself, and dis­covered that she could sell it to friends. She also cooks and hosts supper clubs that showcase her contemporary take on Filipino food, and eventually branched out into bottled adobo and barbecue sauces that she sells on Amazon under the label Roni B's Kitchen. For Filipinos who can't cook at all, using these bottled sauces is an easy way to hack Pinoy flavors for Christmas.
I suddenly remember another de­tail about my family's Christmases in Singapore. My parents always invited people who had nowhere else to spend Christmas Day to our home for lunch. It didn't matter if they were good friends or business associates or random acquain­tances my dad had just met—there was always a seat for them at our Christmas table.
Eventu­ally, many of them became friends for life. So perhaps, that is the best way to hack a Pinoy Christmas—to surround yourself with love and share your Christmas—whether it is with family or with friends who have be­come family.