Rachel Notley track record strong on health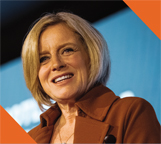 Albertans face a stark choice about the future of health care in Alberta.
Rachel Notley believes in strong, stable public health care. Jason Kenney has spent decades trying to bring private health care to Alberta.
Over the past four years, Notley put health on a stable footing. Despite tumbling global oil prices, closing hospital beds was not the way forward.
Notley cancelled Conservative health care premiums. She added 1,200 doctors and 1,200 nurses. She worked with doctors, nurses and frontline staff to freeze wages instead of cutting services.
She also moved ahead with projects: the Calgary Cancer Centre, a renovated Peter Lougheed Centre to deal with complex pregnancies, plus hundreds of beds for seniors with dementia and Alzheimer's at the Calgary Complex Continuing Care Facility.
Kenney says public health care "simply isn't working." The UCP have called for a two-tiered system, with privately-funded and publicly-funded private delivery.
Instead of reducing wait times, privatization increases pressure on public health care. For-profit clinics take the simplest cases, leaving the public with fewer resources for the hardest cases.
Kenney recently signed a "Public Health Guarantee" promising to "maintain" health spending. It's a billion-dollar cut in disguise. Alberta's population is growing and getting older, which is why Alberta expects three per cent increases over the next two years.
Albertans need to decide the future of health care. Jason Kenney wants to make ideological changes. Rachel Notley will fight for strong public health care.
The stakes are high but the choice is clear.
Rachel Notley's team is fighting for all Albertans. We are fighting for you.
Cesar Cela
NDP Candidate
Calgary East
Albertandpcaucus.ca