British pop star Rita Ora arrives in Manila for first PH concert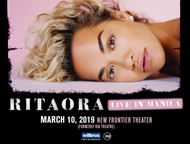 British pop star Rita Ora has arrived in Manila, a day ahead of her first-ever concert in the Philippines this Sunday.
The performance, at the New Frontier Theater (formerly KIA Theatre), is part of her ongoing world tour promoting her second studio album, "Phoenix." and will see all-Filipina girl group 4th Impact open for her.
Ora served as one of the judges during the "The X Factor UK" season which 4th Impact, who used to call themselves 4th Power, joined.
Some of Ora's best known hits include "Your Song," "I Will Never Let You Down" and "Body on Me." She recently released a brand new music video for "Only Want You" featuring 6LACK.
Since arriving in Manila, Ora has been sharing a few of the things she did while in the country on Instagram Stories, including being escorted along EDSA by the police and hitting the gym.