Comedian Chokoleit dies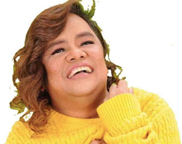 Comedian Chokoleit passed away aged 48 on Saturday night, his talent agency, Star Magic, has confirmed.
Chokoleit, whose real name was Jonathan Aguilar Garcia, featured regularly in ABS-CBN movies and shows, most notably in 2004's Kapamilya fantaserye "Marina".
In a statement, Star Magic said: "Chokoleit was performing in an out of town show in Abra, and experienced difficulty in breathing after his performance."
The comedian was rushed to the Abra Provincial Hospital, where he succumbed to pulmonary edema and heart attack, his attending physician Dr. Rosauro Seares said.
His fellow comedian Vice Ganda led the tributes, writing on Twitter: "Thank you Lord for giving me a chance to meet Chokoleit and become his friend. I'm sad that we lost him."
"But happy that he'll be in a much peaceful and happier place now with you. Thanks for everything Chokie. I love you!"
Others paying tribute included actor Paulo Avelino, singer Tim Pavino, and talent manager Ogie Diaz.
In a video posted on Facebook by the provincial government of Abra just hours before the news broke, Chokoleit was seen performing at a show called Kawayan Festival 2019.
He sang "Kahit Maputi na ang Buhok Ko," before drawing laughs and applause with his stand-up quips — including an eerie one about how the crowd might not get to see him again if he went out from the backstage– before the video was cut off.
Carl Guevarra of local band The Juans, an act who performed before Chokoleit went up on stage, described some of the comedian's final moments on Facebook.
He wrote: "‪Unbelievable. Chokoleit performed right after our set and we witnessed how he struggled through the entire performance. The ambulance rushed him to the hospital in Vigan but now we were informed he didn't make it and passed away. We are all in shock. Prayers to all his loved ones. RIP"
Chokoleit's remains were still in a funeral home in Abra, as of this posting.