Don't blame Senate for slowdown in PH economic growth – Sotto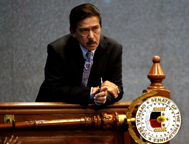 The Senate was also a "victim" in the delayed approval of the 2019 national budget, and should not be blamed for the slowdown of the country's economy growth, Senate President Vicente Sotto III maintained on Saturday.
Sotto, in a radio interview, said he disagreed with the pronouncements of government economic managers that the stalled passage of the 2019 General Appropriations Act caused the Philippines' first-quarter gross domestic product to fall at 5.6 percent, which was considered the slowest rate in four years.
"First of all, I do not agree with what they said. But if they insist, there are two factors: the delayed budget approval and the election ban. When the campaign period started, construction, [public] biddings, and all others have been prohibited," Sotto explained to the DWIZ in Filipino and English.
"But on their mention of Congress, it's definitely not the Senate," he said, referring to the House of Representatives.
The Senate leader recalled the sudden change of leadership in the Lower Chamber in July last year as a reason for the "late" transmittal of the budget bill to the Upper Chamber.
The House forwarded the P3.757-trillion spending plan to the Senate November 20, giving senators only a few days before adjourning for Christmas.
He also pointed out the dispute of the two chambers over the supposed "pork" insertions and illegal itemizations — allegedly by the House — in the GAA after its ratification.
"Ano gusto nila, hindi kami mag interpellate, hindi kami mag-hearing and hindi namin i-scrutinize?…Hindi kami papayag, the Senate cannot be complicit to such an act (What do they want, that we do not interpellate, not conduct hearings, and not scrutinize it? We cannot agree to that, the Senate cannot be complicit to such an act)," Sotto said.
For these reason, Sotto said the government cannot point to the Senate as a culprit responsible for the slowdown of economic growth in the country this year.
"They cannot say that the Senate was at fault, we are just a victim of circumstance and we will not agree with violating the Constitution," he said.
Sotto, on the other hand, expressed confidence that the Philippine economy will be able to catch up after the elections.
"Kayang-kaya ihabol yon," he said.