PCG CALGARY INTENSIFIES WINTER ESCAPADE 7 PROMOTION IN ALBERTA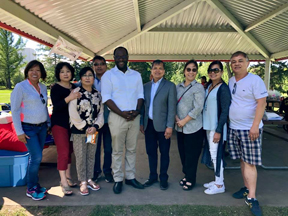 29 August 2019, Calgary – The Philippine Consulate General (PCG) in Calgary intensified its promotion of the Winter Escapade 7 travel tour to the Philippines by launching it in Edmonton on 25 August and in Calgary on 28 August 2019, respectively.
On both launchings, Consul General Zaldy Patron explained the details of Winter Escapade 7. He highlighted that the annual tour targets mainstream Filipino-Canadians and Canadians to travel to the Philippines and discover the new attractions and destinations in the country. He also shared the promotion of Philippine Airlines for Winter Escapade travellers.
The launching in Edmonton was held at the Coronation Park Picnic Site during the picnic activity of the Philippine Business Society of Alberta (PBSA) and was attended by about 50 individuals. It coincided with the PCG's consular outreach mission in Edmonton on 24-26 August.
On the other hand, about 40 community leaders and guests attended the launching in Calgary which was held in Max's Restaurant.
The two separate launchings in the two biggest cities in Alberta were part of the PCG's campaign to encourage the members of the Filipino-Canadian community and their network of friends to sign up for the tour in the weeks leading up to the registration deadline on 15 September 2019.
The Winter Escapade 7 will take place on 15-22 January 2020 and will bring the participants to the different tourist destinations in Manila, Bataan, Pampanga, and Boracay. The tour promises a VIP experience for the participants as they will be billeted in the finest hotels in the Philippines, treated to savory Filipino dishes, and introduced to the Filipino hospitality. They will likewise enjoy the beautiful beaches, interesting museums, and fascinating heritage sites in the Philippines.
Interested participants may get more information about Winter Escapade 7 and register at www.winterescapadeph.com.