Traffic becoming fatal? Give way to ambulances, say authorities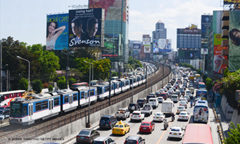 MANILA — Traffic authorities urged motorists to yield to ambulances while President Rodrigo Duterte's spokesman floated the idea of deploying military helicopters in response to a news report that patients have been dying in ambulances while caught in traffic jams.
Quoting ambulance drivers, the French news agency, Agence France-Presse, reported that some patients died while in transit due to the gridlocks, caused by outdated infrastructure, refusal of some drivers to give way and outdated infrastructure.
"We hope that other motorists are willing to comply when asked to give way. This is what we can do for now as there is no space for dedicating special lanes for emergency vehicles," Metro Manila Development Authority Spokeswoman Celine Pialago said.
Presidential Spokesperson and Chief Legal Counsel Salvador Panelo said authorities "should be creative, look for roads that are not traffic-laden or perhaps they can use choppers for an emergency flight."
"We can always utilize the AFP (Armed Forces of the Philippines) with respect to choppers," he said.
Health Secretary Francisco Duque and Defense Secretary Delfin Lorenzana "should be coordinating with respect to that," he said.
Asked if his statement was an official policy, Panelo clarified, "That's my suggestion."
"The problem of traffic is very complex, however, and the patients in ambulances are caught in the crossfire of factors. We assure the public that we are trying our best to solve this situation, and that ambulances delivering patients on time is among our concerns," Pialago said.
The average number of vehicle volume in EDSA rose to 405,882 in the January to August 2019 period, higher than the 2018 average of 383,828, Pialago said.
At peak hours, the main arteries of Manila are clogged with idling cars — a 25-kilometer (16-mile) end to end drive through the main highway can take as long as three hours.
Home to some 13 million, there is nearly one vehicle registered per person. The resulting gridlock costs the city $67 million daily in lost productivity, according to a 2017 Japanese government-funded study.