Anne Curtis hurt whenever asked about having a baby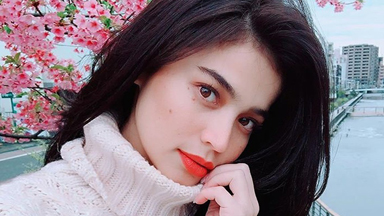 In show biz, a typical progression of questions an actress in a romantic relationship gets during interviews goes something like this:
1. Has your boyfriend proposed marriage? (Or are you already living together?) 2. When is the wedding? (What's taking you so long?) 3. When are you trying for a baby? 4. When are you going to have another?
Anne Curtis had already hurdled the first two. So it's the third one she has been dealing with since tying the knot with celebrity content creator Erwann Heussaff in November 2017.
Unsurprisingly, the question popped up yet again at a recent press conference for the 10th anniversary of the noontime variety program "It's Showtime."
The 34-year-old star responded as she always had: "It will happen in God's perfect time … and I think I'm ready for it, any time."
But this time, Anne followed it up with a request: Can the entertainment press refrain from asking such question—to any woman, for that matter?
"I'm speaking for every woman when I say that you don't know what they're going through? I have a lot of friends who may be trying and it can be quite hurtful for them when people keep asking them when are they going to have one," she said.
Her co host and close friend Vice Ganda echoed her thoughts. "We [in showbiz] have gotten so used to it," he pointed out. "It's a habit we should put to a stop."
Anne added that it's also possible that a couple simply doesn't want to have a child.
"I hope you guys aren't taking this the wrong way. But out of respect for all women, we shouldn't be asking them when they're going to get married, or when they are going to have a baby or why they don't have one," she reiterated.
As part of its 10th year festivities dubbed as "Sampu Sample," "It's Showtime" will launch new segments and bring back some past fan favorites.
This October, Anne and Vice will be joined by fellow hosts Vhong Navarro, Amy Perez, Jugs Jugueta, Karylle, Teddy Corpuz, Ryan Bang and Mariel Rodriguez for the annual "Magpasikat" competition.
The ABS-CBN show will revive the segments that discovered such acts as dance group XB Gensan, musical ensemble Fourth Impact and shadow play group El Gamma Penumbra. Viewers can likewise expect to see "Mr. Q&A, "KapareWho" and the return of "Tawag ng Tanghalan."
After spending the past decade with her cohosts, whom she now considers family, Anne said she sees herself doing "It's Showtime" for years to come and growing old with the gang.
"It has been a journey. We have grown stronger as a family and put so much of our hearts into not giving up on our show and that's what viewers see in us," she said. "We're so thankful to be in a position to celebrate 10 years."