Make Christmas Shopping Easier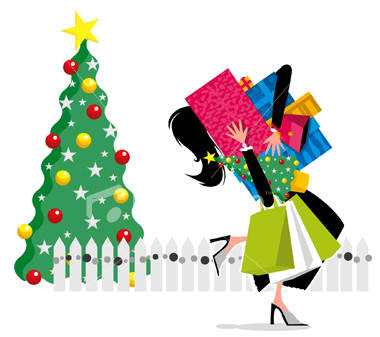 Christmas can be a stressful and hectic time, especially when it comes to shopping. It can be difficult to find the time to shop for the perfect gift for everyone on your list – not to mention fit the cost of gifts into your budget.
If you're stressed about finding the money and time to get your shopping done, try these tips to make Christmas shopping a bit easier this year. With careful planning and our Christmas survival guide, it is possible to stick to your budget and get your shopping done with ease. Maybe you'll even experience some Christmas cheer.
1.         Create a Shopping Plan – and How to Pay For It
Start with a list of who you need to shop for. Then you can calculate how much you will spend on each person and how much will you need to allow for gifts total.
Once you have a list, you can also plan where and when you are going to buy the gifts, making it easier to seek out the lowest prices and any potential deals. Review bargain and sale sites to search for gifts first. Amazon, RetailMeNot, and Ebates are all great ways to save money when Christmas shopping. Taking the time to plan carefully can help you avoid forgetting someone on your list or buying too many presents.
2.         Take Advantage of Black Friday
One of the most effective ways to save money on Christmas shopping is to take advantage of major sale days.
To really get your money's worth on sales, you'll have to plan ahead. Many of the best sales usually run out in the first hour or two, so you need to formulate a plan and stick to it. Research strategies to employ, tactics to fight the crowds, and where to get the items you need. Coming up with a solid plan is essential to making all those hours spent waiting out in the cold worth it.
3.         Don't Pay Double Shipping
Another way you can save on Christmas gifts is to ship straight to the recipient instead of having the item shipped to you, wrapping the gifts, then having them shipped to their final destination.
If you are shipping primarily to children, ask an adult in the house wrap the presents for you. If you are traveling to the house for Christmas, you may request that the person hold the boxes unopened, and you can wrap them when you arrive.
If the above isn't an option, weight the cost of paying to have the retailer wrap the gifts for you before shipping. Paying for the wrapping may still cost less than the cost of shipping an item twice. When choosing to buy online or at a store, you should also consider the price of shipping into your budget.
4.         Consider Bulk Options
Not every gift will fit into this category, but if you have the option to do a bulk gift, it will almost certainly save you money. Try assembling gift baskets or cookie plates to give to coworkers or neighbors. Try getting some friends together and having each person bake a certain type of cookie. Then you can all assemble cookie plates together while mixing and matching the varieties.
Similarly, you can buy in bulk together to assemble gift boxes or bags for your co-workers. This can save you money in the long run since buying in bulk is almost always cheaper.