Canmore Winter Carnival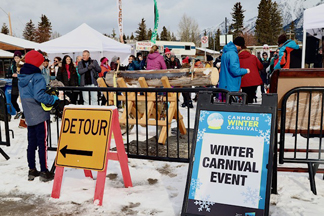 Photo credits to Arwin Alcaraz
The Canmore Winter Festival was from Friday Feb 28 – Mar 1, 2020 and it was held thru various venues throughout Canmore.
The Winter Carnival Kick Off  was held on Friday, February 28 at the Canmore Civic Centre.
There were music, bonfires, hot chocolate, games and more!
There was also an evening of great fun with their Log Sawing Competition.
There was also Kids Ice Carving whhere kids  carve little blocks of ice and take home an awesome ice sculpture.
Saturday, February 29
Ice Carving Competition & Community Play Day
Canmore Civic Centre Plaza.
It was a day of winter fun: maple taffy, bonfires, food and more. Jammed packed day full of community, laughter and fun times.
Ice Carving Competition
Talented ice carvers transform blocks of ice into magnificent works of art to the theme Play.
BeaverTails Eating Competition
Yes! It's true and delicious.
Log Sawing Competition
Team and individual timed competitions to be Canmore's fastest sawyer?
Mut Hut Emporium Pooch Parade
Say what? YUP! Canmore's winter tradition: watch locals dogs and their owners wearing the latest in winter fashion in this popular parade! This year's theme is Play.
Meet at the Mut Hut between 12:00 and 12:30 pm. You will all leave together to the staging area 1/2 a block away. Event starts at 1:00 pm. This is an outdoor event so please ensure you and your pet dress for the weather!
Sunday, March 1
Fun at the Pond
The Pond on 7th Ave.
Human Curling, Music, Bonfires, Snow Volleyball
Snowy Owl Kid N Mutt Races – The Pond
Families or individual teams of kids and sled dogs race down the track … nail-biting action.