GK/ANCOP BRINGS FVR TO CALGARY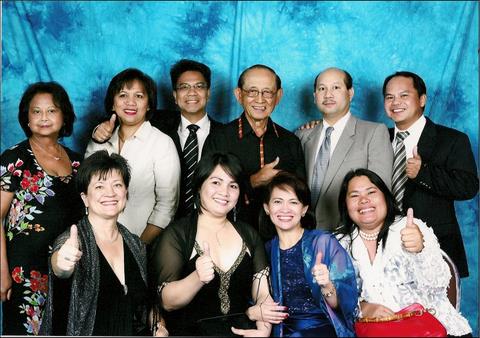 July 1 – July 4, 2009
On July 1, FVR and his delegation arrived in Calgary from Edmonton and was met by Honorary Consul General Felixberto Guerrero together with the ANCOP Calgary volunteers. FVR came to Calgary for a series of fundraising events to promote Gawad Kalinga. He was also in Edmonton for the same cause before coming to Calgary. A series of events were lined up for FVR and yours truly was able to attend two of these events.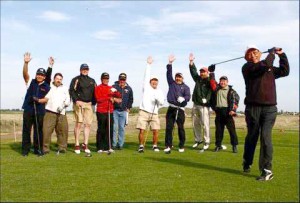 July 2 - Breakfast Forum was organized by Lou Ang of Solid Industries and Elvie Valeroso, one of our community leaders in Calgary, together with the presence of MLA Carl Benito of Millwoods, Edmonton at the Home Food Inn. It was attended by various community groups and business sectors who were there to listen to FVR's message. He clearly stated that CARING, SHARING AND DARING is what he promotes and he believes that GK exemplifies the same. That is why he has been an active supporter of GK. He encouraged the Filipinos not to forget their heritage specially their language and the people. The Breakfast Forum was highlighted by cultural dance presentations from various groups and also the presentation of donations from various sectors. To grace the forum was Deputy Speaker/MLA Wayne Cao who bidded for one of FVR's healing tobacco (that's according to FVR). Jun Cruz of GK/ANCOP Calgary also presented a slide show regarding shelter and child sponsorhip program of GK. A press conference followed right after the Forum and a group Filipino media people were present during the press conference. Pepito Magpayo of TV Pilipino acted as moderator and present as well were Lito Cleofe and Teofie Buluran of Radyo Pilipino, Connie Kriaski of Pinoy Times and Cheryl Guinsatao of Kabayan News. During the press conference he talked about his RPDEV - Ramos Peace and Development Foundation and also made mentioned that they will be donating 20 books to the Calgary Public Library. He also handed everyone at the press conference a copy of VISIONARY, RPDEV's official newsletter.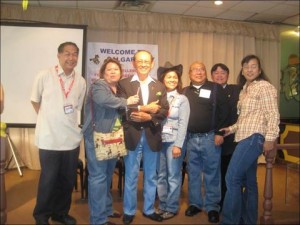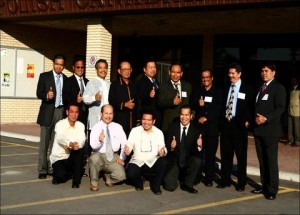 July 3 - GK Gala Night was sponsored by ANCOP Calgary for another evening with FVR at the Polish Canadian Cultural Center. It was a well attended event and Honorary Consul General Felixberto Geurrero with his lovely wife, Carlyn graced the said event together with other dignitaries. Most of the attendees were from the business sectors and from different community organizations. The night started with a sumptuous buffet dinner of which a prayer before meal was offered by Fr. Alfredo Perreira, Couples for Christ - Calgary Spiritual adviser. After the dinner, a very memorable presentation and sharing was delivered by Mrs. Norma Velasco-Morohashi who started the Velasco-Mohorashi Village in Los Banos, Laguna. According to Norma, she believes that God has a purpose for everything. And for her, she believes that she was brought to that place to fulfill a longtime wish of building a village for the poor. According to her, everything happened in God's time and that He loves a cheerful giver. After Norma's sharing, another powepoint presentation was made by another ANCOP volunteer, Mr. Jun Cruz. He showed the different Calgary GK Villages in the Philippines, namely in Southern Leyte and Misamis Occidental. Then finally FVR took the floor and gave his message to all the Filipinos present in the gala, thanking all the supporters, volunteers and donors of ANCOP. He also made a comment that "ALBERTA IS GOOD." Photo sessions with FVR followed right after he concluded his message.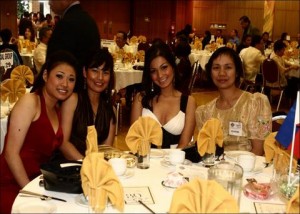 July 4 - Last of FVR in Calgary nad his day started with an early morning tee-off for a Golf Tournament at Boulder Creek Golf Course out in Langdon, Alberta, a short drive out of Calgary. There were 64 golf enthusiasts who joined FVR for the golf tournament. In bidding farewell during their lunch, he asked everyone to join him in saying out loud "KAYA NATIN ITO." It was indeed a visit of EX-PRESIDENT FIDEL V. RAMOS that Filipinos will never forget.