OFW FEATURE of the Month-A LOVE measured by distance…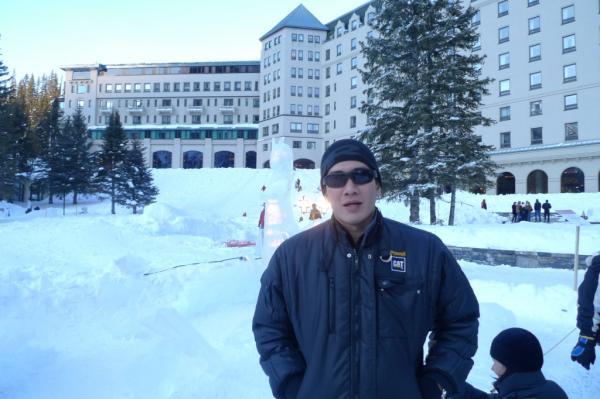 By:  Estrella "Tata" Delos Reyes
Jamiel "Bhong" Cipriaso is a son, a brother, a friend, a simple and shy hardworking foreign worker, whose only dream was to help and bail out his family from the harsh reality of hard times. With a mother who was widowed 7 years ago, a brother who has mental challenges, and a sister whose marriage life fell apart, Bhong misses the days when everything was ok and when his father was alive to look after them.  Now, he has taken on a big responsibility on his shoulders.
His fate working in Canada was totally unplanned. His application and name was put on in the LMO processing to fill up the number of manpower request made by a Filipino Recruitment Agency. With his experience in the food industry, he ventured to apply as Kitchen Helper for Tony Roma's and waited for the paperwork while working his hours off at a local food chain in Manila driving motorcycles and delivering food-to-go orders to patrons. But without the resources to spend on paying the sky-rocketing agent fees, he was deeply worried.  Then an offer came from a good Samaritan to help by lending the fees involved in the entire process.  It was crucial he said when after he was awarded the work visa by the Canadian Embassy, the agency would not give it to him because he was demanding for a receipt. With few hours left before the travel agency closes (it was going to be a national holiday the next day – so the office will close early), he was left with no choice but to redeem his visa-stamped passport and abide by the crooked process.  An amount we need not mention as most overseas workers, who went through the same undesirable experience would rather not hear nor read over & over again. Now it's all behind him.
Every thing was first for this young man. Traveling only the streets of Manila, he flew the skies crossing the limits and borders in search of a way to help his mother and brother.  He said that the minute he arrived, the hurtful past of a failed relationship, the lost  of his beloved father, and the sadness of separation from family, had been laid to rest.  It is time to move on. He must now come to terms.  Now at age 27, and still single, he sets aside the idea of settling down, or of even committing to a relationship, all because he wanted to preserve the income he is making to pay back the monies he owed, and to provide for his mom's and brother's medications.
In just 7 months, the monies he borrowed was taken off his list of "things-to-do first". Now he earns to live and work hard for his family left behind. His vice of smoking cut shorter in order to save.  Frugal with his spending habits, he must uphold the noble promise he left to his mom – to take care of her while she traverses the road looking after a mentally challenged 23 year-old son – not knowing what future lies ahead.  He now provides the financial resources to the best that he could.
He does not know what his immigration future will be. His position progressed in the kitchen line and does more in the cooking division.  A position he hopes to apply for a Change of Condition IMM1249 with CIC to a permit naming a more desirable skilled position level 6242 on the National Occupation Classification Code.  He looks forward to a better tomorrow each day.  Thanking God for the opportunity he was given, and thanking the people around that supports and guides him through his chosen career.  When asked if he dreams of staying permanently in Canada? He would only shrug his shoulders and say, "It is not my ultimate intention – I know this is only a temporary program, but I leave it all up to Him – the one who knows very well what my future lies beyond.  I am here to work and simply get paid for the hard work I do in order for me to help my family left behind.  I want to see them again some day".
I salute young men and women who forget their own welfare for the love of their family. This is such a true measure of unconditional love in the service our own.  I envy the ones who don't forget that at the end of our lifetime, it is our family who will still be our ultimate soul mates, who will still be our avid fan and supporter.  That distance is no hindrance to prove our loyalty, respect, and true measure of Love.