PCCF DANCE GROUP @ GLOBALFEST 2009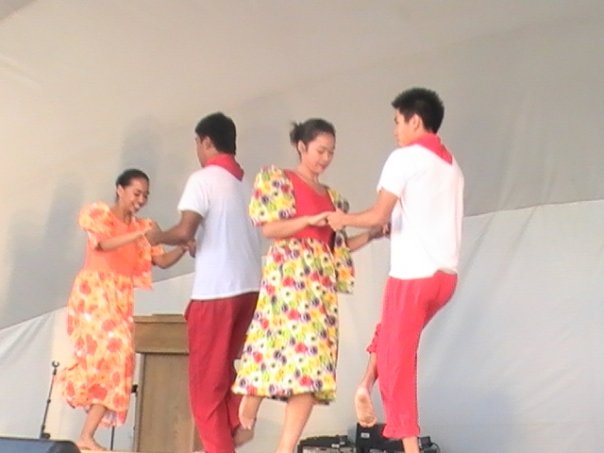 By Estrella 'Tata" Delos Reyes
The children of the Philippine Cultural Centre Foundation (PCCF) shared in the limelight of the 2009 Celebration of Globalfest. Together with the University of Calgary Filipino Students Association (UCFSA), the two groups wowed the audience who attended the festivities of the recently concluded Fireworks Festival at the Elliston Park.  The dancers graced the event with our various cultural folk dances. The PCCF dancers performed among others, the Spanish inspired La Jota Moncadena, where the young girls wore beautiful golden gown costumes and the young boys looking handsome and fresh in their barong tagalog and black slacks.  They also did the traditional Sayaw sa Bangko wearing bright colours of red, green, & yellow costumes.  It was an afternoon filled with delight as the people clap their hands in sync with the taps of their castanets and the humps of their footsteps (watching closely as the girls are carried up and down that skinny "bangko" hoping not to fall).  The people from up the hillside were well entertained.  Parents of the children watch aside with pride and glory.  They knew how their children are making a difference in the entertainment portion of the Festival.
As the night drew near, the children, though exhausted and tired, carried on with big smiles on their faces.  Changed to their casual clothing after a successful stint, they headed towards the hill and sat down to relax and wait for the big bangs of the fireworks display.  A truly amazing way to end their day of fun and laughter in the sun.
Events like this make us all Filipinos proud of our culture. The PCCF dancers are representing all of us with such honor.  They are a good example of what a Filipino youth epitomizes.  They are vibrant, energetic, entertaining, and most of all, truly proud of their heritage.  The youth of PCCF are mostly Canadian-born, but they exemplify true Filipino values.  PCCF hopes that more and more children come to the doors of PCCF hall and join the group.  There are not only the dancing and singing classes, but also the Language School where kids are taught how to speak and write our native "tagalog" language.
I certainly hope that after the many articles I have written about the Foundation, and sharing the many activities that the children and youth of PCCF participated in, more and more Filipino families are drawn into conclusion that our Heritage & Culture is still alive.  And that convincing their children to join the group and develop their skills and talents, at the same time fall in love with the Filipino ways and traditions, is not a hard thing to do.   Mabuhay ang Pilipino!!!
Announcement: The PCCF doors will open for parents and children on the 12th of September to accept registration for 2009-2010.  Please call Ernie Miranda at 403-836-1215 for further details & information.