BARCELONA, SPAIN – A DESTINATION FOR YOU TO SEE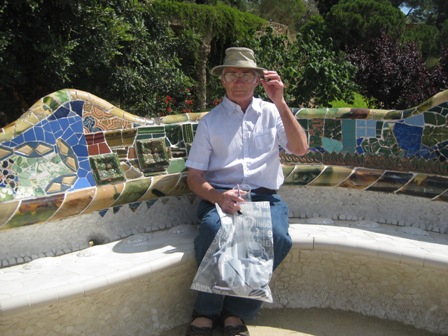 By C.K.
Barcelona is the capital, of Catalonia and the second largest city in Spain, with a population of 1,615,908 in 2008. It is the eleventh-most populous municipality in the European Union and sixth-most populous urban area in the European Union after Paris, London, Rhine-Ruhr Area, Madrid and Milan. Barcelona is Europe's largest city on the Mediterranean coast. (see Wikipedia for more information on Barcelona)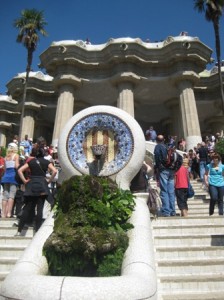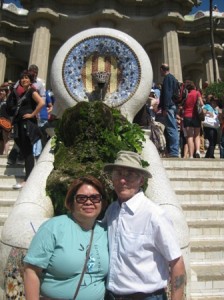 When I was planning our Mediterranean cruise, itineraries I could choose from where to board the ship, but I opted for the port in Barcelona, Spain.  As a Filipino who was born, raised and educated in the Philippines, I got to know about the Philippine history and how we were influenced by the Spaniards during their reign over our country.  We have adapted so much from your Spanish brothers that even in our own home, you will notice how we derived so much words in Spanish that we use in our daily living, words such as  cuchara, tinidor, kubyertos, comedor, cucina, salas, sapatos, tsinelas, bestida, etc.  I was all excited to learn that we will take our cruise from Barcelona.  Finally, Spain, here I come.
Prior to our flight to Barcelona, I already did a research of the places we will go and see.  Barcelona is full of arts, and since my husband is an art lover, I know he will enjoy our 4 days in Barcelona.  Arriving in Barcelona after 11 hours flight via Frankfurt, we headed towards our hotel, Holiday Inn in Calle Pallar.  It is not too far from some of the interesting places we wanted to see.  On our first night in Barcelona, we asked the hotel manager for a good place to dine out .  And he gave us a name of a restaurant La Barca del Salamanca, one of many seafood restaurants in Barcelona's Port Olympico, a trendy place to eat and drink and watch the world go by, and not to miss the famous La Paella, one complete meal to satisfy your appetite.
The first on the list of our itinerary is to go and see SAGRADA FAMILIA, a very unique and elaborate architecture by Antonio Gaudi .  Construction of the church has started for more than hundred years ago and it's still not finished up to this date and the end is still far off.  Gaudi modeled on people and live animals which was very visible on the sculptures on the facades which were life-sized.  And there's the Picasso Museum, Plaza Catalunya, Barcelona Cathedral, and then we went on the hop on-hop off bus where we ended up getting off to see another Gaudi work of art, La Casa de Pedrera.  On our last day, I promised myself that I should not to forget to make a visit to the famous park designed by Gaudi – the Parque Guell.   It was totally one of a kind, where it's consist of at least 5 levels and on the 2 level is where they have benches designed with mosaic tiles of Antonio Gaudi.  It was a huge space  full of symbolism that Gaudi used to combine urbanism, architecture and nature.  It is very organic in style and very natural.  There are all sorts of artists selling their works and musicians playing their instruments and selling CDs as well.  When you are oh the top level of the park, you can have a 360 degrees view of the City of  Barcelona. It can be noted that this park is a residential paradise in the middle of  the city.