Maricris Santos – OFW of the Month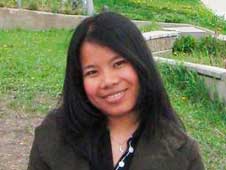 Determination, diligence and a dream – these are the things that brought Maricris Santos to where she is today. She has the courage of a true fighter and the passion of a dreamer. She was born on July 11, 1978 in Sta. Cruz, Manila but she grew up in San Fernando, Pampanga. Having a humble family and living a simple life at that time, she has acquired unique wisdom and has learned a lot of things in life which is not common to children of her age.
When Maricris graduated in elementary school, her parents decided that she should not go to high school anymore because they cannot afford to pay her tuition fees. But because of her insistence, she decided to ask for help from her relatives who are able to support her. Fortunately, her aunt agreed to take her in Masantol, Pampanga. She continued her schooling at Sta. Lucia High School. At young age, this was the first time that she took care of a sick person. Her aunt is a diabetes patient. Living away from her parents is a hard situation but she endured it. She graduated high school with flying colors. Her parents were so proud of her for being the salutatorian. She wanted to be a teacher so she took Bachelor of Elementary Education at Pampanga Colleges. She graduated and then passed the Teacher's Board Examination.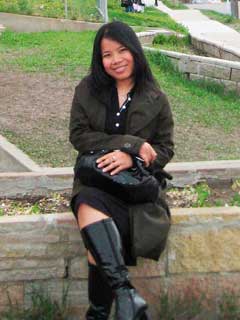 Maricris, once a dreamer…who dreamed of being a teacher was really blessed. She was hired by her alma mater, San Jose Panlumacan Elementary School. Because of her love and passion for children, she had the feeling of self-fulfillment. She taught there for three years (2001-2004). Due to the condition of teachers during that time, she decided to give up her career and work abroad.
She worked in Hong Kong from 2004 to 2006 as domestic helper where she met her high school classmates and new friends. She moved to Canada in May 2006 to work as a nanny. She is now the breadwinner of her family. For Maricris, dealing with kids is an awesome inspiration. They go to park and play with them. She never felt like working. These things make her look young, far younger than her age.
by Melvin Laureano