PHOTO CONTEST: HERE'S HOW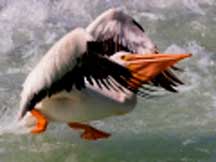 Lambert Rellosa of Calgary used an Olympus E-620 and Zuiko Digital ED 70-300mm f/4.5-5.6 telephoto zoom lens to capture this wonderful picture of an American white pelican about to take off after a successful fishing trip. As a runner-up, Lambert wins a Velbon CF535 carbon-fibre tripod and QHD61Q quick-release ball head.
CONGRATULATIONS LAMBERT from your Pinoy Times family!