The Shotokan Karate Federation – Canadian National Tournament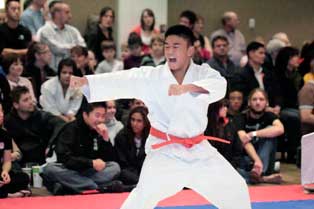 By Ronnel Chua
Aside from the most popular boxing, Filipinos love KARATE  as well.  I was surprised to find out that there was actually the SHOTOKAN KARATE FEDERATION held a Canadian National Tournament at the  Westin Hotel, Calgary on October 10 and 11. Black belts and brown belts all over  Canada came to compete. Everyone showed their best in the three categories; the Kumite, Team Kata, and the Kata. Among the players were 3 Filipinos; LEAH VILLANUEVA who won Gold in all three categories, ALEXA VILLANUEVA,  who won Gold in both Kata and Kumite, and  CHRIS MIRANDA who won Silver in team Kata and Bronze in Kumite. Just like Paquiao, these world- class athletes are a source of pride for Filipinos.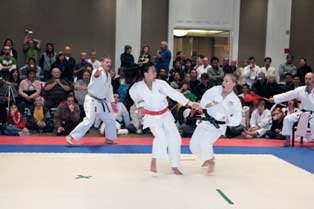 KATA means literally "shape" or "model." Kata is a formalized sequence of movements which represent various attack and defense postures. These postures are based on idealized combat applications.  Some kata use low and wide stances. This practice develops leg strength, correct posture, and gracefulness. Vigorous arm movements enhance cardiovascular fitness and upper body strength. Kata vary in number of movements and difficulty. The longer kata require the karateka to learn many complex movements. Diligent training and correct mindfulness lead to real understanding of combat principles.  Some of the criteria for judging the quality of a performance are: Absence of missteps; correct beginning and especially ending; crispness and smoothness; correct speed and power; confidence; and knowledge of application.
Sparring in Karate is called KUMITE. It literally means "meeting of hands." Kumite is practiced both as a sport and as self-defense training. Levels of physical contact during sparring vary considerably. Full contact karate has several variants. Knockdown karate (such as Kyokushin) uses full power techniques to bring an opponent to the ground. In Kickboxing variants ( for example K-1), the preferred win is by knockout. Sparring in armour (bogu kumite) allows full power techniques with some safety. Sport kumite in many international competition under the World Karate Federation is free or structured with light contact or semi contact and points are awarded by a referee.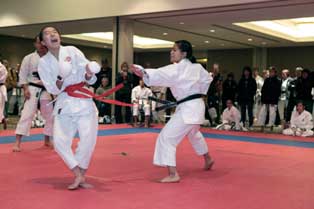 In free sparring (Jiyu Kumite), the two participants have a free choice of scoring techniques. The allowed techniques and contact level are primarily determined by sport or style organization policy, but might be modified according to the age, rank and sex of the participants. Depending upon style, take-downs, sweeps and in some rare cases even time-limited grappling on the ground are also allowed.  Free sparring is performed in a marked or closed area. The bout runs for a fixed time (2 to 3 minutes.) The time can run continuously (Iri Kume) or be stopped for referee judgment. In light contact or semi contact kumite, points are awarded based on the criteria: good form, sporting attitude, vigorous application, awareness/zanshin, good timing and correct distance.[20] In full contact karate kumite, points are based on the results of the impact, rather than the formal appearance of the scoring technique. (SOURCE: WIKIPEDIA)