SIMBANG GABI….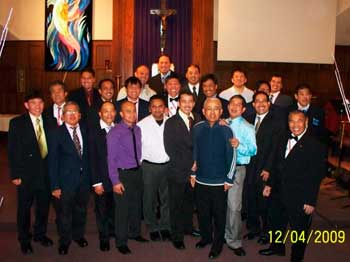 By: Tata Delos Reyes
On Friday, December 4th, The Knights of Columbus All-Filipino Council, spearheaded the first of the series of "Simbang Gabi" in Calgary at St. Joseph Catholic  Church with Fr. Rudy Badiola presiding the mass.  It may not be the typical and traditional type that Filipinos grew up with in the Philippines, but Filipino-Calgarians still strive hard to celebrate this kind of religious activity to express their Faith and Honor the Son of God as the celebration draws near the Christmas Day.  The day He was said to have been born.
Mostly celebrated by Catholics, "Simbang Gabi" or Mass at Dawn, is a Filipino tradition during Christmas Season that starts at the crack of dawn December 16th and holds it for 9 consecutive mornings.  A Novena series in its real essence, devotees believe that if they complete the 9 masses, will bring hope to what they are praying for fervently. It also represents sacrifice as the mass is usually held at 4:00 AM,  while  everybody else is in deep sleep.  Mass goers will have to wake up and prepare to attend the mass.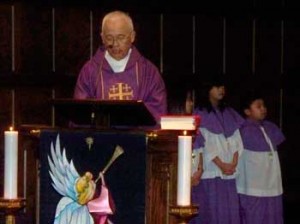 This tradition, introduced by the Spanish friars or priests, allowed many of the Filipino farmers hear the mass before they head for the farms and start their cultivation. Popularly known to Spanish speaking Community as "Misa De Gallo" or Mass of the Rooster, our Simbang Gabi in the old days, will start when the church starts ringing their huge bells atop the church tower to wake people up so they can get ready for the mass while the doors of the church is swung open to welcome them all.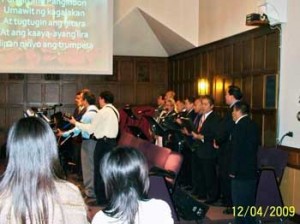 The tradition continues on and is celebrated in many different styles. Some churches are fully decorated in colorful sights of the holiday season. Lanterns in all shapes and sizes and Christmas lights abound the outside and church facades. The "Belen" or Nativity Scene where Jesus is shown laid in a manger with his mother Mary and  St. Joseph, also plays a special spot in the church.  The scenario includes the 3 wise men who brought the special gifts for the newborn King and the star that guided them to Bethlehem.
After the mass, delicacies awaits the faithful and are sold in stalls outside the church. The famous "puto bumbong", "suman", and most of all the "bibingka", are the most popular of them all. But who would not crave for the hot "pan de sal" and coffee or chocolate that awaits the church goers too?
Christmas celebration in the Philippines, "walang kaparis" as many would say. Nakaka miss talaga. Maligayang Pasko to all our Kababayans!!!
SIMBANG GABI Date Church location:
December 4  St. Joseph Church
December 5 Holy Trinity
December 6 Corpus Christi Church
December 11 St. Mark, St. Peter
December 12 St. Famille, St. Patrick
December 13 St. Thomas More Parish
December 18 Ascension
December 19 Sacred Heart
December 20 Canadian Martyrs
Please call the Sponsoring Church above for further details.