PASKONG PINOY – The Pinoy Times' 2009 Christmas Celebration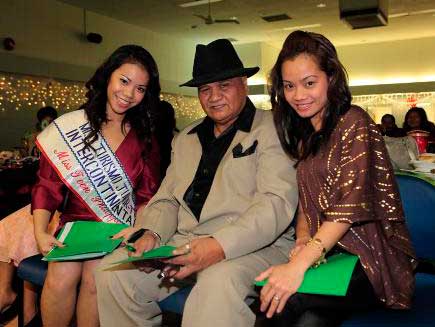 By Estrella "Tata" Delos Reyes
Last December 18, 2009 was a huge success when Pinoy Times' Publisher Connie Kriaski and her Staff got together to welcome their guests and celebrate Christmas 2009.  Tagged as "Paskong Pinoy", the party was attended by close to over 150 people.  From family, friends, and her loyal advertisers who throughout the year, did not waive their undying support for the publication. Connie did not let the evening pass by without the acknowledgement and appreciation for every one's participation.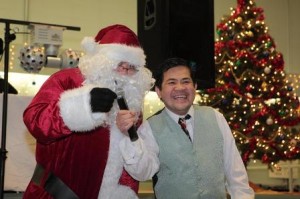 The evening was emceed by none other than" Juan Manila" himself and yours truly. With the place dolled up with enormous Christmas Spirit, the lights, decors, and good sound added greatness to the night that was to commence.  Dinner was served by Rolymie's Catering Services and the food was abundant.  Table after table, the guests were called in to enjoy and savor the good food – A variety of good Filipino food that is.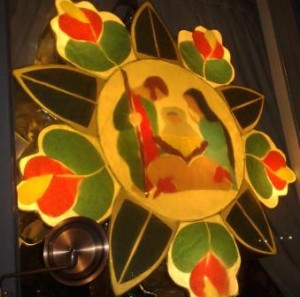 The Grand Finals for Pinoy Times' "Can You Dance?" contest came right after the awarding & draw prizing sessions in between,  but was the main event, as 3 pairs who vied for the grand prize danced their way up to get the trophy and cash they truly deserve. The contestants were mostly from ages 15 to 17 and all of them did a very good job.  The beautiful and shining trophy displayed added to the challenge and I felt like grabbing one of them -  wishing I was still young to participate.   The winners for the CAN YOU DANCE contest are:  3rd Prize – Bradley magnaye & Nikki Chicote; 2nd Prize – Chris Miranda & Kristal Rubiano; 1st Prize – Kurt Rubiano & Richelle Rapisura.  Thanks to our advertisers who donated the cash prizes  – 1st prize—Domrick Dollar Store; Jessica  Taburada and  Alex Tumanang; 2nd prize—Philippine Financial Services; 3rd prize—Ann's Beauty Salon.  We would also like to thank Pepe Siapno of YOSAC for donating the trophies we presented to our winners.  It wouldn't be possible to have a contest if not for Manila's Finest who allowed us to use their dance floor for our auditions.  We also want to thank the judges for the night, Whittnie Gaquie, Kuya Ed Catahan and Michelle .
Another main feature of  Paskong Pinoy Times is the Lantern Making Contest.  We have one lucky participant—congratulations to Melchor Amurao, who has displayed his creativity by making the lantern from scratch.  He got a cash prize from Greatlife Financial and 2 balikbayan boxes  courtesy of Focus Cargo Forwarders.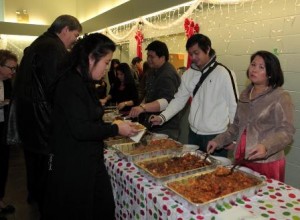 A big thank you to all our advertisers who provided door prizes  namely MCLtd, Mark Sadiua, Mary Kay, Boutiqhoo, Greatlife  Financial, Read Distribution Network for the TFC boxes door prize, Bhe-Bhe's Filipino Grocery, Ferran Capco of Visions,  Ron Barnachea of Rolymie Homes and Carlos Perez of Mountainview Memorial  Homes.  We also like to thank PRIME DRAGON PRODUCTIONS  for our grand raffle prize—5 tickets to L na L show this coming February 12, 2010.
There was also the 50/50 draw where half of the pot was to be donated to the "Bahay Kalinga" fund-raising project. Very timely after the series of typhoons hit our home country and a lot of our "kababayans" lost their homes due to the flooding it caused.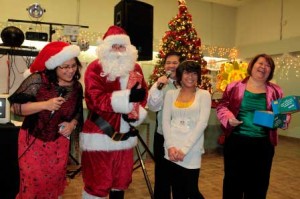 Connie did not forget her staff of course.  These are the people behind her strength and courage to run a publication that is sometimes bagged with controversies.  Yet, she remained defiant and strong to continue her work in the service of the Filipino Community in Calgary. The certificate and small tokens of appreciation did not go unnoticed and we are thankful for that.
Santa Claus did not forget to pass by with Rudolf & his sleigh parked outside the Hall, he helped us all in the gift giving process.  The children were so happy and mesmerized as he took center stage and gave us all his big Ho! Ho! Ho!
The year 2009 for Pinoy Times ended with not just being blessed, but with big bangs of future plans for more Filipino community services in the making.  It is not just a publication business that was drawn for profit but more drawn to continuously serve the goodness of all Filipinos in Alberta.  This I am proud to say and very thankful to be a part of.  Mabuhay tayong lahat.  Mabuhay ang Pinoy Times. And the word "maligaya" in the "Maligayang Pasko" was truly felt that night of December 18, 2009.