Pinay White House Chef wins Iron Chef America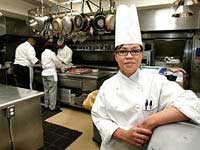 Filipina White House Head Chef Cristeta Comerford made more history when she became the first White House chef to compete on the Iron Chef America show on the Food Network and win against some of the best chefs in the world.
Comerford and grill master Bobby Flay defeated Emeril Lagasse and Mario Batali in a battle using fresh harvest from the White House garden, including kale, rhubarb, broccoli and Japanese eggplant.
As usual for the show, both teams prepared five dishes for the judges – chef Nigella Lawson, Olympic gold medal swimmer Natalie Coughlin, and actress Jane Seymour.
Batali and Lagasse made scallops with a radish and fennel salad, a trio of oysters and salads, sweet potato and ricotta ravioli, quail and turkey wrapped in vegetables, and a sweet corn beignet for dessert.
Comerford and Flay prepared a fennel and apple salad with oyster, another salad with lobster and squid, a Filipino-inspired broccoli clam chowder, a barbequed veggie dish, and a meringue sweet potato tart.
Flay said, "I told her don't be afraid to use her Filipino background, which have a lot of flavors there."
Both teams scored equally in the taste category, but Comerford and Flay took home the win thanks to their presentation and originality.
Iron Chef America is a spin-off from the hit Japanese cooking show Iron Chef.
Comerford said "that her Filipino heritage made her better equipped to meet the challenge of feeding the family of President Barack Obama a healthy diet." The First Lady, Michelle Obama, shares Comerford's preference for healthy food.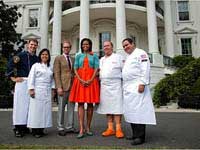 Cristeta Comerford with Michelle Obama and the chefs of Iron Chef America
Mrs. Obama made a brief appearance during the show to welcome the chefs and make her pitch for a pet project called the Healthy Kids Initiative that aims to reduce childhood obesity through improved school lunches, farmers market, community gardens, and exercise.
"Mrs. Obama's message to cook and eat fresh food encouraged us to create this historic battle," said Bruce Seidel, Senior Vice President for Programming of the Food Network.
Batali, Flay, and Lagasse are all stars of the Food Network. They were flown in to Washington last month for the special taping at the White House.
Armed with their secret White House Kitchen Garden ingredients, the four chefs then headed to the 'Kitchen Stadium' in New York for the actual battle.
Since the Garden was planted back in March, it has produced hundreds of pounds of vegetables that the White House chefs use in presidential meals and that the Obama's donate to DC area food pantries.
"We are honored to showcase The White House Kitchen Garden in Iron Chef America," said Bob Tuschman, Senior Vice President, Programming and Production for Food Network. "This is the most intense culinary competition we've ever shown. It's awe-inspiring to see what four master chefs can create from locally-grown ingredients in the heat of Kitchen Stadium."