A Concert In Review: L na L – Laughin' N Lovin'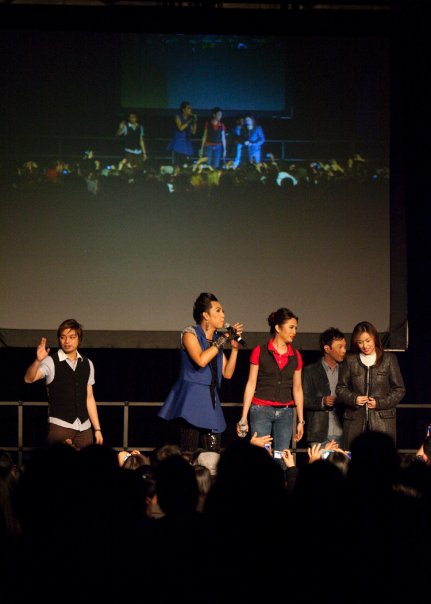 A Concert In Review:        "L  na  L"  Laughin' N Lovin'
by:  Estrella "Tata" Delos Reyes
A pre-valentine concert show invaded the Filipino Community of Calgary with a resounding entrance of one of the most famous stand-up comedian Philippine Entertainment has in this generation.  One Friday evening on February 12th, Prime Dragons Production offered our Fil-Calgarians a glimpse of what fun and laughter is all about.  Headed by a four-man team, Edward Yao, Eric Yao, Sherwin Esmilla, and Michael Sun, they helped brought to Calgary, an array of stars that brought tummy-aching-laughter to their fellow Calgarians via a Concert Show entitled "Laughin N' Lovin".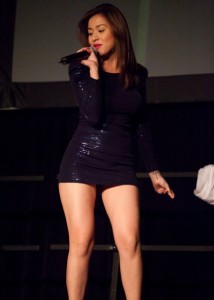 The entertainers flew all the way from the Philippines.  There was Anton Diva, Nyoy Volante, BJ Hans, Cristine Reyes, and of course the well-known and soon to star in the revival of the movie "Petrang Kabayo",  none other than Vice Ganda.  The concert was held at the Big Four Building in the Stampede Park and the venue was filled with its audience that began as early as 6:00 PM.  It was not until around 8'ish when the program finally began.  With a little challenge at the start, when people from the side bleachers stormed the center part, the issue was contained immediately and the confusion was resolved with no major problems.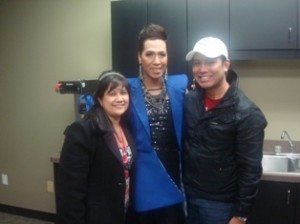 Emceed by none other than our very own Reth "Juan Manila" Barnachea, front acts were called in and were introduced.  They were  local Calgarians Ella Gopez, who sang the nerve wrecking song "Magkaisa" which brought goose bumps on my skin by the way, Charmaine Baquiran, who did lyrical dance close to perfection, and Nicole Gopez, a budding 13-yr old, who also did a beautiful song number.  I think the song that Ella chose was timely as everyone knows, the Philippine Politics, is once again in the limelight with our Country's upcoming Presidential Elections. There was also the typical prize draw that ate some time for this concert… it could've been passed or removed easily from the program to move on with the show as the night draws deep.  I don't think this is a necessary part of the show as the entertainers too are tired from their jet lags, that they might just be getting more impatient in the back stage or dressing rooms.  At any rate, thank God this prize giving part didn't take too much time to complete.  Not a bad way though to give back thanks and appreciation for the well-participated concert.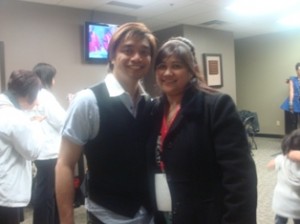 As the concert unfolds, Director RC Perez' expertise came to a slow reality.  The first part of the show was a number from one of the most sought-after Acoustics Guitar player and Perfomer, Nyoy Volante. He has a very smooth and romantic voice that brought most of the girls in the audience the "kilig" factor.  The rendition of "How Deep Is Your Love" brought the first of the many screams that will come as the show progresses. What catches my taste in romantic songs, were those lyrics that came from the very popular song "Ikaw", which are mostly a big hit in wedding and anniversary celebrations. Quite timely as this was a pre-valentine celebration.  Nyoy's guitar though was acting up.  It was probably feeling the shock of sudden climate change. Either that, or the sound system isn't used to a "Pinoy" instrument.  His final rendition of "Kaysarap Ng May Minamahal" gave all the audience the feeling of romance while truly appreciating the worth of our partner and/or loved ones in life.
Anton Diva, who is also a household name in the field of Comedy Bar show business, was the next to render his talent.  His transformation was so intense that people really could mistake him for a woman.  Dressed in a beautiful white dress, Anton Diva is well known to be the best imitator of the real songbird Regine Velsquez. The voice was so smooth and the songs he did (which were classics from Regine herself), were done with justice.  Everyone was in awe and could not resist clapping their hands.  Although the singer admitted having a bit of a voice contraction (for being in a cold environment), he finished each song with nothing but success.   Calling in his friend BJ Hans, whom referred to himself, as the not-so-popular among the group, Anton and BJ put up a small comedy skit. BJ's intense talent on backstage broadcasting and stage presence earned him his successful stint with Manila's DZMM Teleradyo.  His voice and talent combined are quite good even with or without the spot lights of a stage.  His skills in making people laugh with his random jokes, made him and Anton Diva, a team to follow through.  The skit was a mock Beauty Pageant and it was fun because they had to call in on the stage participation from the audience.  And funny as it is, they chose the first three gay people who would join them put up the mini Beauty Pageant show.  My hands were up clapping, when the three participated and pulled the entire act with success. Raw talents?  Well, who knows that maybe someday, one of those gay "kababayans" may make it in the entertainment scene. Not bad.  Their final rendition was a duet song number "The Prayer" and truly was very touching. The trebles of its high notes and song pitches, make it an awesome song quite good for any singing contests.   Overall, it was nothing but pure entertainment.  The jokes, the songs, and the skit – they surely brought fun and laughter to the audience.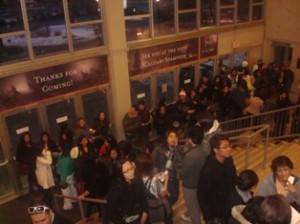 After the women were serenaded by the phenomenal  guitar-strummer Nyoy Volante at the start of the show,  it was the opposite sex' turn to enjoy the show.  A balance in the program that brought joy & entertainment  to both sexes.  I think this was a good decision from the producers as they have thought of both the men and women that will come.  The young actress Cristine Reyes was called in to perform a special song and dance number with audience participation of course.  Two men were invited to join her on the stage.  That "kilig" factor I was talking about? It did not apply only to the women, but also to the men, who saw beauty and sexiness in this beautiful young woman. A popular actress back home, Cristine has dominated the typical sexy symbol of this new era.  Her movies and tele-seryes awakes the fantasies of many men, who dreams of a perfect woman.  Beautiful, sexy, and talented.  I just thought that she may have made a bad choice on the dress she wore because it kept going up unintentionally and so she kept pulling the skirt down while she walks back and forth the stage during her song and dance.  Nonetheless, she made mostly the men scream with joy this time.  I wonder how some girlfriends and wives around reacted while their partners could not restrain themselves. But nonetheless, everybody knew and appreciated what entertainment at this point stands out for.
When the night drew closer to midnight, as we pass the 11 PM mark, Vice Ganda was the focal point of the entire evening. Vice Ganda, who arrived only that night, who was picked up from the airport by Pinoy Times' Publisher Connie Kriaski herself – was also given the White Hat Welcome at the Calgary Airport.  The minute his name was called in, I remembered suddenly, how just the night before, I was on "You Tube" performing searches for his gigs in Manila. I thought that I may not be surprised no more because his acts are recorded and posted by his many followers who had nothing to say to him after his every show, but "Viva!".  I controlled my thoughts and told myself, hmmm… maybe there will be newer stuff that I have not heard from him via the network and the worldwide web.  I recalled how back in 2005, this budding comedian was making "okray" to me when I went to visit Manila. "Okray" is a gay lingo that describes how someone will make fun of you with criticisms but all for the sake of fun and enjoyment.
Here he comes… the spotlight on the stage waiting for this tall guy to appear as he makes side comments through the microphone.  Eyes all set and can't wait for his jokes to occupy the space of Big Four Building.   What were his first lines?  Hahahaha!! "Naiihi ako"… people cracked as we all saw how tight-fit his costume was.  With the big broad-shouldered blue blazer, Vice was on his way to fly and dominate the scene.  I asked then, how can he carry on with the show if he has this personal feeling of going to the washroom?  Surprisingly, this entertainer was truly a professional and one-of-a-kind performer who kept going and going.  As he kept cracking jokes after jokes, the audience has nothing but screams of laughter.  At times too, even though he has not said a joke yet, one or two cracks would be heard from nowhere.  Proving only how strong his character is and the "karisma" he has on the public.  Song renditions of Lady Gaga's hitmaker was a perfect match for this comedian's voice.  What made me truly entertained was his love to be closer to his audience, adding personal touch to his performances.  Some artists are tied up to remain on the stage and are half hearted in going down from the podium to be touched, kissed, and hugged by their fans.  This one in particular is so personal with his viewers.  Up to the last song when he did his final bow, the audience felt his presence. Truly spectacular, I think that this is one hit to many concert goers.  The mixture of song, dance, and on-stage random jokes is something anyone can look forward to.
Prime Dragon Productions has created a phenomenon in modern entertainment. Bringing these kind wonderful talents next time around would surely be a welcoming thought.  Congratulations to a successful stint! They did not think of only making a profit, but thought of the concert goers who would like to have their monies worth.  I am pretty sure that a lot regret buying the cheaper ticket. Thanks to the big screens provided that added such big help in viewership.  Although this was one tough concert to pull through, with a very good preparation, venue, sound system, and good directorial skills, no one from that night went home without a funny story to tell.  In fact, I bet some naturally skilled funny people who came to see that show had adapted some of Vice Ganda's brew. CONGRATULATIONS again
Edward Yao, Eric Yao, Sherwin Esmilla, and Michael Sun for bringing laughter to our "kababayans". We need shows like this especially as we miss the warmth touch of pure Filipino talents. Til your next one.
KUDOS!!!