Suncor Energy Inc. (Petro-Canada), Celebrates 2010 Winter Olympics and Paralympics Opening IN STYLE!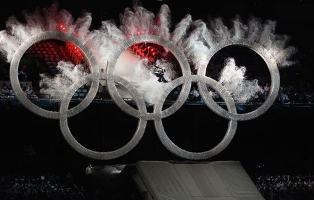 The Olympic Spirit burned brightly  this February  in all of Canada and Calgary was a big part of it. The special part for me was the privilege of being  my husband's guest at Suncor Energy's  Employee Olympic  Ceremony Event.   My husband and I had a very memorable night with Suncor families, friends and great  paralympic athletes.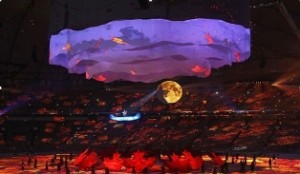 This celebration  of the Opening Ceremony  for the 2010 Olympic  Games  is in conjunction with their huge and continued  support to both the athletes and their families. The doors opened at 7:00 pm  on Friday February 12th, and the first 2,010 attendees received  a special token –a pair of Olympic HBC mittens.  The festive venue took place at   BMO Centre  Hall B&C Stampede Park. It was filled with lights and decor,  had a  center stage for presentations and a performing band,  a special  memorabilia  area  for Olympians  and Paralympians, medals and  autographs,  game stations for  Air Hockey, Shoot Out and WiiII tables, and of course a Photo booth.  There were arrays of food and drinks in several stations for guests to indulge themselves as they watched the opening ceremonies on the plentiful theatre  size projection screens  in every corner . It was really impressive and equally exciting to be part of this rare and grand celebration.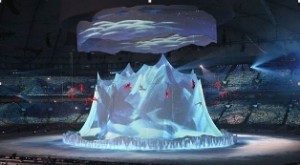 What impressed me the most was learning that Petro-Canada, now under Suncor's wing, has been helping both  Olympic and Paralympic athletes, families  and coaches  and their commitment has never faltered during the past 22 years.  Petro Canada is the Official Oil and Gas Sponsor of the Vancouver 2010 Olympic Winter Games. This year, they really went out there to support the event and  will continue with the 2010 Paralympic Games on home soil.  As they  quote  "Dreaming Big Deserves Big Support" I am certain that  their legacy as a national partner will continue in future Olympics. In addition to literally fuelling all Vancouver 2010 fleet and motor coach vehicles, Petro‐Canada is fuelling the dreams of hundreds of athletes through  different  initiatives.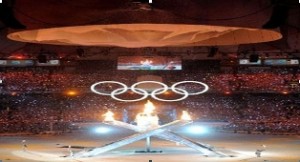 Among the programs** that Petro- Canada support are:
Grassroots Support for Developing Athletes– Providing developing athletes with the funding and resources needed to dream big and achieve   their Olympic and Paralympic goals.
Petro‐Canada Canadian Athlete Family Program- Petro Canada  not only helped  send  their greatest athletes  but also   hosted  their greatest fans – their families . This  Program accommodated  two immediate family members of Canadian Olympic   and Paralympic athletes . The hosting  includes accommodation for four nights, meals, ground transportation and most importantly tickets to watch their athletes compete. Petro-Canada believes that it is  important part of an athlete's training, is learning how to manage distraction so that athletes can focus on their performance.
Fuelling Athlete and Coaching Excellence (FACE). This program
provides 50 athlete‐coach pairings in grants to help close the
funding gap and to help talented athletes achieve national carded status.
Paralympic Equipment Fund- Petro‐Canada, in partnership with the Canadian Paralympic Committee (CPC), helps local and provincial organizations deliver effective development programs for up‐and‐coming athletes by increasing the availability of high‐performance Paralympic sports equipment.
Own the Podium- Petro‐Canada is a contributing sponsor to the Own the Podium Program, designed to provide additional resources and programming to high performing Canadian athletes and coaches. The focus of this initiative is to help Canada place as one of the top nation at the Vancouver 2010.
There are   also community initiatives that Suncor Energy (Petro-Canada) helps everyday.  Aspirant athletes  with  the help of their national sponsor can continue to dream big through: Petro‐Canada Canadian Olympic Committee Community Outreach Program and Petro-Canada Paralympic Schools Program- It's the Real Deal . Last but  certainly not the least  specially for this year, is the Petro‐Canada 2010 Legacy Pole.  Suncor energy  partnered with Squamish Nation carver and local artist  to commemorate its sponsorship of the Vancouver 2010 Olympic and Paralympic Games. Suncor Energy  also wants to promote the talent and growth of Aboriginal artists in Canada and create a legacy that will last well beyond the 2010 Games. This is a  22‐foot totem pole that  tells the story of all nations coming together to celebrate the 2010 Winter Games. The pole will reside at the Aboriginal Pavilion in Vancouver during the Games then travel to Calgary to be raised in the Suncor Energy Centre.

**  Excerpt of Program Legacy Backgrounder: visit  www.petrocanda2010.ca