Philippine Lenten Season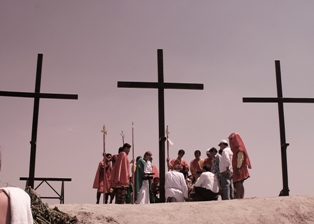 By: Ronnel Chua
Photography by: Ronnel Chua
Holy Week
Holy Week is locally called Cuaresma or Semana Santa. The start of Holy Week is Palm Sunday. Catholics carry palm leaves, known as palaspas, to church for the priest to bless. Catholics also celebrate Maundy Thursday, attending church services and watching Passion Plays. In one practice called visita iglesia, Catholics try to visit as many churches as they can. On Good Friday, believers in certain areas, such as Manila, San Fernando in Pampanga Province, and Antipolo in Rizal Province, reenact the sufferings and death of Christ on the Cross. Although Good Friday is a somber time, Easter Sunday is a joyful occasion that starts with salubong, where the statues representing the Risen Christ and the Grieving Mother Mary are carried to meet at an appointed place.
Source: Festivals of the World: Philippines
Cuaresma
Lent prepares the Christian for the yearly commemoration of Christ's Death and Resurrection.
Forty weekdays- hence the term cuaresma in Spanish-are given over to prayer, almsgiving, fasting, and abstinence from meat. Christ's forty-day retreat in the desert and his success in resisting the devil's temptation to wealth, power, and glory inspire Christians.
Source: http://www.filipinoheritage.com/religious/Cuaresma.htm
Linggo ng Palaspas or Palm Sunday
Palm Sunday is ushered in with a widely- practiced ritual; parishioners wave palm fronds, locally called palaspas, in the air, mimicking the crowd that met Christ upon his return to Jerusalem. Blessings, prayers and Sunday mass follows;  in affirmation of the religious nature of this age-old custom.
Source: http://www.pic-uk.com/dis_fiesta04.html
The Pasyon
The Pasyon refers to the verse narrative on the life and sufferings of Jesus Christ. The pasyon text may be written in Tagalog or in other major Philippine languages, like Pampango, Ilocano, Pangasinan, Bicol, Ilongo, Cebuano, and Waray. There are also pasyon narrative among the Ibanag and Itawes of Cagayan, the Gaddang of Nueva Vizcaya, and the Cuyunon of Palawan.
It relates to the Philippine cultural practice connected with epic singing during important celebrations of the community. The pasyon may also be chanted, though rarely now, during wakes and death anniversaries, as well as during the reenactment of Christ's Last Supper on Holy Thursday evening. There are various melodies and musical styles in the rendering of the pasyon.
Many innovations in pasyon singing have been introduced, like the use of the guitar or rondalla for accompaniment and the use of the accordion by a traveling group of pasyon singers. Singing of the pasyon is performed in two basic group formations. In the first, two people or groups of people sing alternately. In the second formation, each of the singers takes their turn in singing a stanza of text.
The pasyon chanting tradition is seen by many of its practitioners as a vow or panata made by an individual or family, which in many cases has been passed on from one to two generations back.
Source: http://www.filipino.com.au/categ/culture/pasyon.htm
The Sinakulo: Past and Present
Passion plays that flourish today in the urban and rural areas project this conflict. The still dominant, traditional sinakulo pictures Christ as a model of meekness and masochism, a lamb accepting death in obedience to authority. In contrast, the new sinakulo spotlights a Christ of reason and resolve, a lion who leads the downtrodden against all oppressors.
The traditional sinakulo is a Lenten play, usually in verse, which narrates a long sequence of episodes from the Old and the New Testaments, with special emphasis on the life, sufferings and resurrection of Jesus Christ. Certain conventions of marching, chanting and magic are usually followed.
Source: http://www.filipinoheritage.com/religious/sinakulo.htm
San Pedro Cutud Lenten Rites
The San Pedro Cutud Lenten Rites is a Holy Week re-enactment of Christ's Passion and Death which takes place in the barrio of San Pedro, Cutud, 3km from the City of San Fernando, Pampanga. It includes a passion play culminating with the actual nailing of at least three penitents to a wooden cross atop the makeshift Calvary. Every year on Good Friday or the Friday before Easter, a dozen or so penitents – mostly men but with the occasional woman – are taken to a rice field and nailed to a cross using two-inch (5 cm) stainless steel nails that have been soaked in alcohol to disinfect them. The penitents are taken down when they feel cleansed of their sin. Other penitents flagellate themselves using bamboo sticks tied to a rope.
2008 Crucifixion
On March 21, 2008, Pampanga carpenter Ruben Enage, 47, was nailed to a wooden cross on Good Friday for the 22nd time, since his first in 1985. 25 other penitents, including two women, were nailed on a wooden cross on Good Friday in San Pedro, Cutud. Central Luzon crucifixion reenactments were also held yearly, in Angeles City, Sto. Tomas, Pampanga, and in Bulacan
Criticism
The Catholic Church does not approve of the crucifixions and does not endorse them. The media has also turned against the rites, calling them "pagan and barbaric" but generally admitting they are still a good show.
Source: http://en.wikipedia.org/wiki/San_Pedro_Cutud_Lenten_Rites
Modern Holy Week
Holy week in the Philippines is a big event. Everybody's scrambling to go home to their provinces. Bus terminals, airports, piers and highways are packed during this season.
Manila is very quite during Holy Thursday and Good Friday. Businesses are closed. Roads are all clear of traffic.
People enjoy this week with their family and friends.