The Filipino Passport Outreach…out of reach!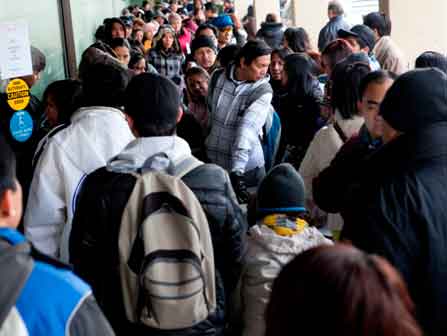 Calgary, Alberta, Canada
By: Ronnel Chua
And you thought that getting your passport in the Philippines was so stressful.  Well, just imagine how it was at the so called recent "passport outreach" program here in Calgary. Pure chaos!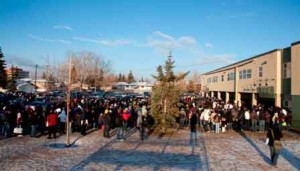 People were standing in line at -4 C temperatures.  That's colder than your fridge. Even kids, pregnant women, and old people were made to wait in the freezing cold. There were no clear lines, no people guiding you where to go, and no toilets to use.  Some people who didn't know where the end of the line was just made up new lines which branched out and snaked all over the lot. It was pure chaos. Some people came as early as 3 am from faraway places.  Some even slept in the parking lot. All the volunteers could say was that it was beyond their control. If people didn't want to stay and wait, then they had to spend hundreds of bucks to make the trip to Vancouver instead.  Just imagine the amount of time, money, and effort we spend just to renew our Filipino passports.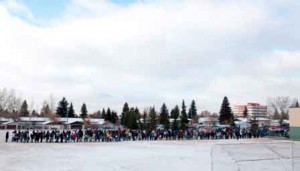 Why the sudden change in rules?  It used to be that we could just go to our local volunteer Consulates or even send it by mail (for renewals). A lot of Filipinos were frustrated with the decision to move all passport applications and renewals to Vancouver. What was really the reason behind all of these new rules? Who ordered the change? How much is it to go to Vancouver? Well, for people here in Alberta, it will cost up to $500 and even more for people from Winnipeg.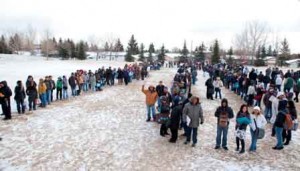 A lot of these people renewing passports are foreign workers earning $10 an hour, working 8 hours a day, 5-6 days a week. A lot of them took the day off so most have to work the next day to make up for it. But because they won't be accommodated today, they have to come back the next day thus losing another day's wage.
Their usual expenses are $500 for rent; $300 for food; $500 or more to send home to their loved ones in the Philippines. So do you think going to Vancouver just to renew their passports is something they can afford? OCWs/OFWs are bringing in a lot of remittance revenues to the Philippines and this is how our government treats them?
Maybe the Philippine Government can do something to help our countrymen here.