CLAUDEE LYNN JAMILA, REPRESENTS CALGARY AT THE 2010 MISS WORLD CANADA PAGEANT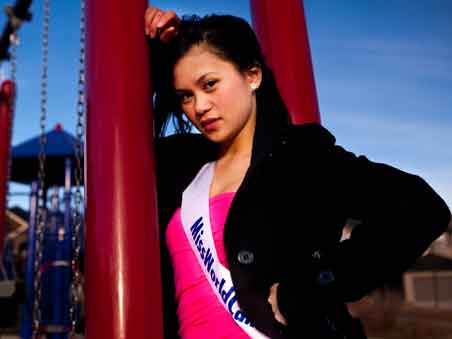 On May 7th, 2010, Miss World Canada will be crowned in Vancouver, BC at the 3rd largest theatre in Greater Vancouver, The Chandos Pattison Auditorium.  Miss World Canada 2010 will win, among other fantastic prizes, an international voyage for 5 weeks and compete in the famous Miss World 2010 Pageant to be held in Vietnam in November 2010.
The audition for this contest was held in Calgary sometime in February 2010 and for the first time ever, a young Filipina, 18 years of age will be one of the candidates to represent Team Alberta.  Claudee Lynn Jamila, a senior high school student from St. Mary's High School, was one of the lucky candidates who will be going to Vancouver on May 3rd to join the rest of the candidates for this pageant.
Claudee Lynn is the daughter of PJ and Lilibeth Jamila, both from the province of Bohol.  She is the 2nd of 4 children.  We had the opportunity to do a one on one interview with Claudee  Lynn before she leaves for Vancouver for this big chance of her lifetime, to win the title of Miss World Canada.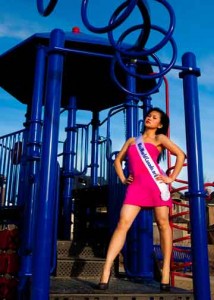 CK:  Have you participated in other beauty contest/pageants before?
CJ:  Not really, but when I was a little girl, I used to join the Santacruzan in the town fiestas in Bohol.
CK:  How did you end up being a part of the Team Alberta to represent Calgary in the contest?
CJ:  There was an audition held in Calgary last February by John Robert Powers Academy.
CK:  How many candidates were there during the audition?
CJ:  There were actually 30 of us ranging from 14-25 years old.
CK:  Why did you decide to audition for this contest?
CJ:  It is a great opportunity for me to be a part of something big and to be out there and do something different especially for charity.
Another reason I wanted to join the pageant was because I wanted to come out of my shell. I use to be really shy back then and I just wanted to come out of that shell and be that person waiting a long time inside me! I also wanted to prove to myself as well as to others that anything is possible, as long as you believe in yourself!   Also that honest hard work, truly has its rewards.
CK:  What is main objective of this contest?
CJ:  Miss World Canada is a supporter of  Varitey – Children's Charity fundraising.  All ticket proceeds for this contest will go to Charity.  Another objective of the pageant aside from raising funds for Variety-The Children's Charity, is to allow young women to stand with their own unique stances and to take on a role as individuals speaking on behalf of sick children.
"Variety-The Children's Charity," is the official charity of the pageant, that focuses on raising funds for children with special needs. Ticket proceeds as well as the overall money we raise will all go to funds for Variety-The Children's Charity.
CK:  So how many girls are there in Team Alberta?
CJ:  There will be 4 of us representing Alberta in the "Miss" division, I am representing Calgary, one from Red Deer, one from Okotoks and one from Lethbridge. And a few other girls representing Alberta in the "Miss Teen" division for Miss Global. (There are two divisions in the pageant, Miss World Canada, and Miss Teen Global for younger girls)
CK:  Have you done any volunteer work?
CJ:  Yes, I've been volunteering for the "Brown-Bagging for Calgary's Kid" organization. I will also do other volunteering events and will volunteer at the Children's Festival this coming May.
CK:  Is there a talent portion in this competition?  If there is, what talent are you going to perform?
CJ:  Yes, there is a talent portion and I will be doing a song number for that portion of the competition.
CK:  When do you leave for Vancouver?
CJ:  Team Alberta will be in Vancouver from May 3rd to May 7th.  The grand finals for the competition is on May 7th.  When we get there on May 3rd, we will do a lot of workshops for our stage presence, we will also have some photo sessions and we will definitely have to be ready and prepared for our big night on May 7th.
CK:  What are the judging criteria for the event?
CJ:  There will be an evening gown portion, swimsuit portion, talent portion, question and answer portion and the most important of all is the number of sponsors/tickets that we were able to sell in order to raise funds for Children's charity.
Please also know that what's different about this pageant, and sets it apart from other pageants is that a significant amount of our scores are actually based on how much fundraising effort we do for charity, not all based on physical image.
CK:  Would you like to thank anyone in particular for helping you out in this big step you've taken to be a part of Miss World Canada 2010 pageant?
CJ:  First of all I would like to thank my loving parents, my siblings  and all of my relatives, family and friends for being very supportive of my goal to be a part of this competition. They have been there all the way to give moral support me and have been believing in me.  I also would like to thank my sponsors Glen MacKinnon, Pal Shergill with Prominent Homes, and also Raquel and Allan Uy.
I would like to thank PINOY TIMES for giving me the chance to let people know that there   is a Filipino who will be a part of this big event not just in Alberta but in the whole of Canada.
In closing, we can say that CLAUDEE LYNN JAMILA is a special lady with the desire to make a big difference in her life, win or lose, she's definitely a winner.  She is a special person with her true spirit of integrity and pride in everything undertaking.
We wish Claudee Lynn all the best in this upcoming competition.  For sure, she will make a difference by being a representative not just of Calgary but of all the Filipinos all over Canada.