Lifestyle – Autoshow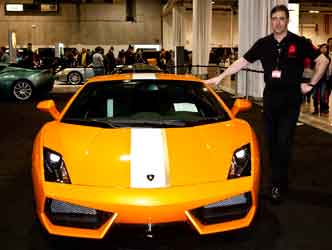 Mitsubishi
Christina Alber
Receptionist
What is your forecast for sales this year compared to last year?
The market is going up. Last year was kind of a struggle. We've seen a lot of improvement this year for people wanting to purchase cars. People are starting to get out of that economic slump and they want to start purchasing things for themselves because they are starting to get the money.
What are your most popular cars?
Two most popular cars are Outlander and Lancers. Lancers has a lot of power and good looks. Outlander is a crossover it looks like an SUV but drives like a car. Outlander is more of a family vehicle.
What advice for first time buyers?
Go out look to see what you really want. Keep in mind it's your first car and you are going to have to pay for it. You want it to be something that you really love and something that you are not going to keep fixing all the time.
What makes Mitsubishi better than other companies?
The biggest comparison is the 10 year warranty.
Nissan
Vincent Woo
Sales Consultant
What is the forecast for car sales this year?
This year is going be a lot better than last year. There are a lot more enthusiasm with the general public and a more stable economy.
What advice for first time buyers?
There are a lot of choices in the market today. The buyer has to find a car that will work for them. Nissan has reliability, good rates and good programs on financing.
The vehicle that sells really well right now is the Nissan Rouge. It's good on gas, reliable and all wheel drive.  It's very good for Canadian winters.
Lamborghini
Robert Rons
Sales & Leasing
Is there a big market here in Canada?
There is. People are getting more and more interested in exotic sports cars and exotic sports cars have become a bit easy to drive.
What makes Lamborghini different from other luxury vehicles?
The brand Lamborghini is extreme, uncompromising and Italian. The design is very angular and a little brute. Well branded vehicle.
Ferrari
Carlo Galasso
Vice President
How many stores in Canada?
Four stores located at Calgary, Vancouver, Toronto and Montreal.
Is there a big market here in Canada?
It's not that it's big we try and produce a very special car for a very special group of people. Usually very passionate about formula 1 racing, they love having a special car and Ferrari Maserati suits their needs.
Where are the Majority of your clients from?
Toronto, it is very established there because Ferrari Ontario has been there successfully for over 20 years, so he's built a very loyal clientele, and he's a very honorable businessman so people respect and trusts him and liked to do business with him.
What makes Ferrari different from other luxury vehicles?
Ferrari is the most special caliber car in the world is because of the affiliation with Formula one.  Because Ferrari builds Formula one race cars as the primary intention, the trickle down of technology to our street cars is tremendous. It helps us create a Formula One experience in a street car that everybody can enjoy. To take that to the next level, Ferrari will actually take select clients, allow them to buy the Formula One cars from championship years of days gone by and allow them to race the car with the factory team on the factory race track in Italy. So you can drive a Ferrari on the street and you can go back to Italy and race the Formula one there. In 2007 Michael Schumaker, the championship car that he drove was sold to one of our clients, just a few months ago he went back with a team of technicians and raced it around the track like Michael Schumaker. So that's what makes Ferrari very special and different from other car companies, no other car companies can say that they have that direct connection to the Formula one race experience.
What do you think about the coming back of the Formula One race back in Montreal?
Very excited, because that is what Ferrari is all about. It's about the racing and the heritage, Enzo Ferrari and his race cars.
How do you think the Auto show helping for your company?
We've had tremendous turn out, as in Alberta the dealership is 2 years old and so there are still many people learning about Ferrari. People come up and say, "Wow! I didn't know you were here."
Can an average person buy a Ferrari?
Some of the older cars are more budget priced. People are so passionate about the cars they take care of them. We are working on a 30 year old Ferrari and the owner doesn't have a lot of money but he loves the car and Ferrari takes care of it for him. It's not a very expensive car but he loves it. Every Ferrari ever built has the emotion and the intent of trying to simulate a Formula One race car and so it doesn't matter what year or vintage. So everybody can share in the glorious Formula One heritage of Ferrari.
Porsche
Malcolm Yuen
Certified Sales Professional
How is the market doing in Canada?
There is a small market but growing.
Can an average person afford a Porsche?
They usually start with a used one.
What makes Porsche different from other luxury vehicles?
It would be the driving experience.  Most models offer a four wheel drive, spacious trunk, 911 can fit 4 people and for years now has the lowest problem brand. A luxury sports car you can drive everywhere.
How does auto show help with the car companies?
It helps people be more confident in asking about their pricing and learn a bit more about their brand.