Celine Gutierrez reigning Miss Teen Central Alberta World 2010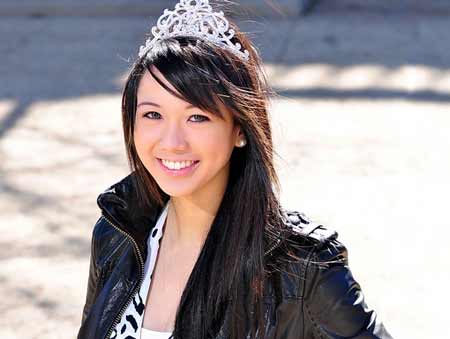 Edmonton, AB – 16.year.old Celine Gutierrez is currently the reigning Miss Teen Central Alberta.World 2010. She competed in the Miss Teen Central.Alberta World pageant on February 28, 2010 in Calgary, Alberta and will be advancing on to compete for the title Miss Teen Canada.World in July 2010
Celine is a born and raised Filipino.Canadian from Edmonton, Alberta.  She can fluently speak both Tagalog and English. She has been playing club and school volleyball for five years now and has had the privilege to play every position.  She is very involved in her school clubs and activities such as Student Council, Social Justice Committee, Peer.Mentoring programs, school open houses and many various sporting events. In 2008, her family lost their belongings to a tragic house fire. Since then, it has definitely opened up her eyes to a new life full of optimism, strength, understanding, and appreciation of the blessings that surround her in her everyday life. After going through such a life changing experience, she decided that she wanted to take her high school experience to a whole new level by joining the fastest growing nationwide teen pageant.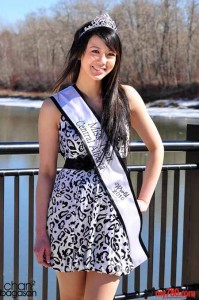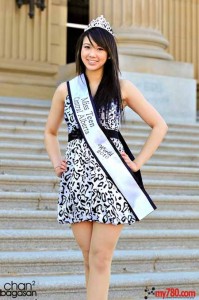 The Miss Teen Canada.World pageant is the official preliminary pageant to find Canada's representative for Miss Teen World. To be able to compete in Miss Teen Canada.World, every contestant must win a title at their local provincial pageants by applying online first. When Celine saw the advertisement for Miss Teen Canada.World on the popular social networking site, Facebook, she did not expect to be able to have the chance to compete. She applied online just to give it a shot and thought that she would go with whatever happened. She did not want to expect too much from an industry that she was not very familiar with. Finalists were chosen based accordingly on their academic achievements, extra.curricular activities, personal expression and presentation. Sure enough after a fifteen minute interview with the pageant's director, Michelle Weswaldi (former Miss Canada 1996), she was on her way to the provincial pageant, Miss Teen Alberta.World.
The Miss Teen Alberta.World pageant was held in Calgary on February 27 to 28, 2010 with 29 gorgeous girls competing for the provincial title. The contestants were judged based on three categories: evening gown, bathing suit, and personal interview. The first day was focused on training the young ladies about posture, proper interview etiquette, the opening dance number and of course how to present themselves on stage. There were special guests such as the reigning Miss Teen Canada.World 2009, Siera Bearchell, and many of the former provincial titleholders from 2009. Full of anxiety, nerves and fear of the unexpected, Celine went into the pageant with grace and confidence. She trusted herself to be the best she can be and let her genuine personality shine through every moment she stepped onto the stage. She believed no matter what the outcome of the night was, she found her true passion by going through and experiencing an opportunity of a lifetime that she will always remember. She ranked Top 13 receiving the title Miss Teen Central.Alberta World 2010.
The contestants moving on to the Miss Teen Canada.World pageant this upcoming summer will fly to Toronto, Ontario for one week to bond with other girls from around the pageant, prepare and do appearances all around the Toronto area before the actual pageant days. The pageant is for girls ranging from the age of 13 to 19 years of age. The Miss Teen Canada.World pageant consists of three competition nights: Talent Night, Preliminary Night, and the Final Night. The winner of the pageant will be crowned Miss Teen Canada.World 2010, receive a cash prize of $25 000.00 and have the opportunity to represent Canada at the Miss Teen World Pageant. Before the actual competition, each contestant is required to fundraise at least $400.00 for the pageant's official charity, Free the Children, which supports children in third world countries. Miss Teen Canada.World is aimed to benefit each contestant in the best way possible,"…fosters positive attitudes, promotes self respect, and self motivation. While each delegate is beautiful, well spoken and physically fit, she is selected based on her personal accomplishments, goals and commitment to community services. By supporting the role models of today, we strengthen our collective tomorrows." Through participation, motivation, and passion, young ladies from across the nation have a chance to show off who they really are and what they have to offer to the world, their country, their province, their city and their local communities. It motivates each contestant to strive to be her best, become more involved with her community and be a model citizen to those around her.
Celine's platform is to raise awareness about natural disasters and self esteem issues present in youth today. She wants to help out other people who have gone through similar situations and as she has and let them know that they don't have to go through such a tough time alone. Going through many experiences in junior high and high school, she learned to "be her own kind of beautiful" and discovered the true meaning of happiness. But her platform isn't just about informing and helping people out, it is also about to reaching and giving back to her local community, especially the Filipino community she is proud to be a part of. She wants to be a positive role model and influence to our youth today by just being a friend to those in need.
You can support Celine through her journey to becoming Miss Teen Canada.World 2010 by searching up "Celine Gutierrez for Miss Teen Canada.World 2010" and joining the support group on Facebook. To vote for Celine go to http://www.missteencanadaworld.com/. The more votes she gets, the better because whichever contestant receives the most votes will be fast tracked to the Top 20  Help support Celine Gutierrez in her running to be Miss Teen Canada.World 2010
If you are interested in sponsoring Miss Teen Central Alberta.World 2010, Celine Gutierrez or to request Miss Teen Central Alberta.World 2010 for your event, please contact Thomas Ancheta at thomas@my780.com or 780.964.5743. For additional information visit Celine's website at http://my780.com/celine.