THE ONE AND ONLY SUPERSTAR, MS. NORA AUNOR IN CALGARY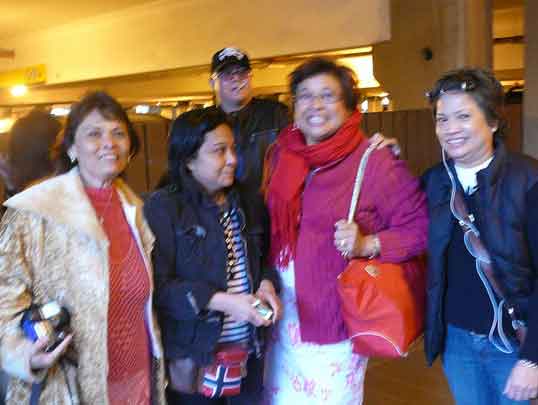 By C.K.
It was a Friday evening, when the fans of the one and only superstar, Ms. Nora Aunor, gathered at the Chinese Cultural Centre for the much awaited show of a lifetime.  I was given the chance to do a  short one on one interview with Ms. Nora Aunor before the show and I  was to happy to find her a very simple, humble and good hearted person.  It was her first time to visit Calgary .  We reminisced a bit of her past when she became the undefeated champion for Tawag ng Tanghalan for 14 weeks.  She still remembers  that the host of the said show was Pugo and Patsy.  I  asked Ms. Nora Aunor  what song in particular does she always include in her repertoire and she mentioned the song "This is My Life".  She explained the fact that she will not be able to perform for the night because of some medical issues.  It was indeed a pleasure to have a short but meaningful one on one interview with Ms. Nora Aurnor.

The show was consists  of front acts of local talents namely, Ashley Rosales, Joann Tamayo, Robert Desmond and the Grand Final Champion of the Singing Star Search, Laurie Callao and the rest of the other finalists in the said contest.  The director of the show did a great job by providing the fans with a recollection of most of Ms. Aunor's film clips while playing her songs in the background.  Ms. Aunor was up on the stage and started to narrate her true story behind the name.  The fans were so happy that night that even if they did not hear their idol sing, they were able to get up close and personal with Ms. Aunor.  We would like to thank the producers Rhonrose Printing and Thee Mustard Seed Entertainment Ltd., the overall stage direction of Rei Ching and the crew members for bringing Ms. Aunor to Calgary and giving the fans the chance to see their beloved superstar.
There was autogpraph signing after the show and the fans patiently waited for their superstar to sign her CD's and posters. The night ended with Ms. Aunor going to Barrio Fiesta for a nightcap with the producers and crew of the show.  Ms. Aunor will be in Edmonton on Mother's Day for another show and  then will fly to Vancouver, Toronto and Washington for a series of shows.