OFW of the month – Vicky Lanag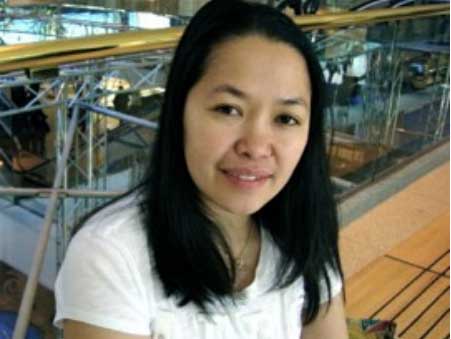 This is a Mothers Day Special edition for OFW of the month. We are featuring an OFW mom who has a big heart for her family. She has an unflinching determination to do whatever it takes just to provide for their needs and give them a good life.
Vicky Lanag is a mother of two beautiful children, Annierose and Shenny. They are Vicky's inspiration to strive and be strong in facing life challenges as an OFW. No matter what she encountered here abroad – hardships, sleepless nights, weariness, pains and homesickness – she prevailed.
Vicky was born in Jamindan, Capiz, a nearby town of Roxas City – the seafood capital of the Philippines. She is the eldest of four siblings. Her late father was a farmer. Her mother is a vendor at Jamindan Public Market and a part time hairdresser. Vicky graduated elementary at Agcococ Elementary School in Tapaz, Capiz.  She stayed at a boarding house in Roxas City while studying at Capiz National High School. In order to have some extra personal allowance, she sold yema and became a dealer of beauty products in their school. During weekends, she was helping her mother sell dried fish (tuyo) in the market.  Because of a scholarship privilege that she had for being a granddaughter of a World War 2 veteran, she was able to continue her schooling. She studied BS Nursing at Filamer Christian College. She graduated in 2001.
Not long after her graduation, she was hired as a company nurse in Hilltop Luggage & Baggage – Carmona, Cavite. A year later, this company closed. She was then again hired as private nurse for a Parkinson's Disease sufferer in Palanan, Makati. This was the time when she met Jojo Lanag, whom her heart fell in love with. In 2002, she was married to him and they decided to move back to Capiz. They live with peace and harmony, and were blessed with two children as a precious gift from heaven. She worked as a nurse in Mambusao General Hospital in 2003.
When Shenny was four and Annierose was one year old, Vicky decided to work abroad as the financial need of her family increased. She wanted to help her husband who was a maintenance staff at PLDT. In December 2005, she flew to Taipei, Taiwan to work as a caretaker. She encountered maltreatment from her first employer. She never had a breakfast, eat leftover foods at lunch and eat dinner at 10 PM for two months. She also never had a room but a sofa to sleep at. When she transferred to her second employer, she found a small haven and somehow a relief to all of her misery. They were very nice to her. When she finished her contract with them, Vicky moved to Calgary. And until now, she continues to strive.
There are times when she misses her family, that she wants to touch her children, longing to feel their embrace. While taking care of other children not related to her, she is thinking about hers. Are they well? Are they okay? Do they miss her too like how she misses them? Are they not suffering from any illnesses? In her heart lies so many questions and her heart filled with emptiness during those times of longing. But still, Vicky has always the hope that someday she and her family will live together in one home and no one will be away from that home, because in that home dwells a wonderful mother who is a heroine, a supermom.
Happy Mothers' Day to all the supermoms.
-by Melvin Laureano