Philippine Independence Day Celebration – June 12, 2010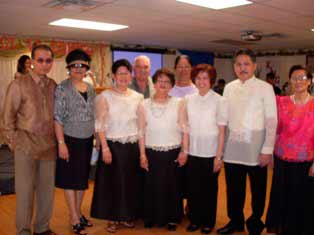 Saturday June 12, 2010 Philippines celebrated 112 years of Independence. Filipinos in Calgary came together to celebrate their country's Independence Day with a church service at the Christ is Coming Church. Guests enjoyed the whole service worshipping the Lord together as one. Philippine National Anthem (Lupang Hinirang) was sung with our own Philippine Flag waiving in the background. Followed by an encouraging message from Pastor John Lucas of Maranatha Evangelistic Association (MEA).  Entertainment was part of the whole program participated by Word of Life Christian Church – Filipina Folk Dancers, Christ is Coming Church, Young Once Seniors Association – Choir along with their Lawiswis Kawayan Cultural Dance and Eastside City Church. Bro. Bong Magpantay shared how the Independence came into being. He also stated, he believe on new direction for the Philippines under the leadership of new elected President Noynoy Aquino. Prayer for the Philippines was conducted by Pastor Edward Palillo of the Word of Life Christian Church. Food was served and fellowship to one another contributed at the end of the event.
The Philippine Independence Day celebration was attended by Honorable Mr. Manmeet Bhullar, MLA, Calgary Montrose Riding. He also shared an encouraging and challenging word to the congregation.
The event was hosted by Partners In Christ Fellowship (PICF). PICF purpose is to establish and carry on local fellowship for the purpose of worship and spreading of the gospel, to provide a place where members and adherents may gather for fellowships and all aspects of spiritual growth and the social needs of the fellowship and also to promote, proclaim, teach and demonstrate the fundamentals of faith to all people regardless of race, color, or religion and to carry on home and foreign missionary work for the proclamation of the gospel.  Since its founding in 1996, God has blessed Bong and Jovie Magpantay the founders of Partners In Christ to bring the Filipinos and various other communities together in unity in Calgary.
For more information:
Contact: Bro. Bong Magpantay                   (403) 708-3705
Posted By :
Kamilla Prasad