OFW of the Month – Geraldine Dagwasi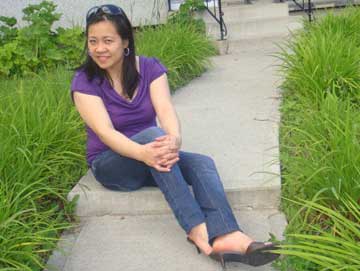 Many Filipinos who are coming to Canada are domestic helpers who worked in Hong Kong. Being one of the most densely populated area in the world, Hong Kong has 140,000 Filipino workers. Most of them are women with university or college degrees who are willing to work as nannies or caregivers for a higher salary in order to help their families back home.
Geraldine Dagwasi or "Gigi" (gee-gee) is one of the OFW's who worked in Hong Kong from 2005 to 2007. She had a wonderful experience in Hong Kong from their culture, food, language and also with making new friends. She felt fortunate because in Hong Kong, she has a better chance to come to Canada. And at the moment, Gigi is working as Caregiver in Calgary. She is one of the Filipino heroes who continues to struggle amidst any tribulations. She is a very good person who provides good things to people – care for her employer, financial support for her parents and siblings and a good friendship to everyone she knows.
Gigi was born in Quirino, Ilocos Sur. She is the youngest and only daughter of a very hardworking farmer-couple. She has two older brothers. Her parents are growing corn and rice crops. They also raise livestock. And all of these as the source of their livelihood, Gigi was able to finish schooling from elementary to college. She graduated at Namitpit Elementary School and Immaculate Concepcion High School. She took a year in AB Political Science at the University of Northern Philippines in Vigan. She also took a year in Bachelor of Elementary Education at Baguio Central University. In 2001, she has finally graduated at Central Ilocandia College of Science & Technology in San Fernando, La Union with a degree in BS Criminology.
Because of unemployment, she and her friend named Wilma Viluan have planned to put up their own business. From a small investment capital, they started running a canteen. Through their wits and high dedication for their business, their canteen became popular. They have gained the loyalty of many people in their town. They had regular costumers from various establishments in the town proper, students and bus/jeepney drivers. Their canteen got ahead more than they expected it will become. Because of this, Gigi was able to buy a residential lot in La Union. This was the first property that she bought.
At present, Gigi is so happy that few months from now, her new house which is currently being built will be completed. This is the fruit of her hard work and tenacity from working as a caregiver here in Canada.
Pinoy Times salutes Geraldine Dagwasi for being a tough and smart OFW. May you always be successful in all your good endeavors.
by Melvin Laureano