A Warm CHRISTMAS for TFWs ( Temporary Foreign Workers)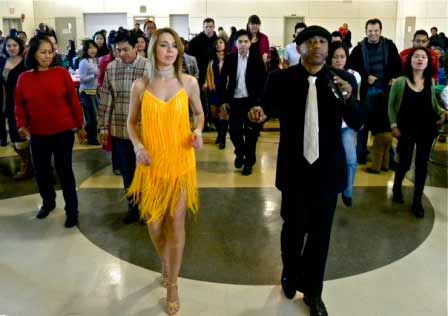 By: Marietta Pangan-Dutkoski
The Calgary Catholic Immigration Society (CCIS) invited all Temporary Foreign Workers(TFWs) to a Christmas celebration together with their families on Saturday December 4th, from 12:00 to 4:00 pm at St. Luke's Catholic Church (1566 Northmount Dr. NW).
CCIS  is a non-profit organization, which provides settlement and integration services to immigrants and refugees in Southern Alberta which includes Calgary. This community leader of  29 years serves and assists  refugees and immigrants in various aspects of settlement and employment.
The CCIS program includes events pertaining to The Temporary Foreign Workers(TFWs). CCIS Support Services acts as a bridge between TFWs, the Canadian community and employers by providing  orientation and information about employment rights & responsibilities. This year, they included new immigrants and  refugees together  with their families at a well celebrated Christmas event.
The program started with registration where all attendees received tickets for Christmas raffle draws. Plenty of appetizers teased everyone's palate while waiting for the main dinner.
Raffles were drawn through out the event. There were also games which included  who ever can say Merry Christmas the longest without being chocked.  This was followed by  a couple of dance presentations that delighted  the audience  and  an impromptu dance  workshop which  made  all attendees  get up on their feet to try out their merengue and salsa  moves.
The highlight of the event was "TFW Got Talent", where participants sang 2 songs which were judged by members and executives from CCIS.  Artoro Dimate,  who arrived in Canada from Mexico 2 short months ago, brought home the bacon with his spanish acoustic songs.
A final 50/50 raffle was drawn before 3 male  members of CCIS showed-off their  "Lady Gaga" Christmas blast which encouraged a lot of humourous audience participation and chuckles.
The event ended with final messages from the CCIS HR executive, event coordinator Jessica Juen and a Christmas message from a pastor.
Overall, the event was fun, well attended and very successful. All attendees truly appreciated the afternoon, particularly  all TFWs to which this event was dedicated.