Calgary's SIMBANG GABI 2010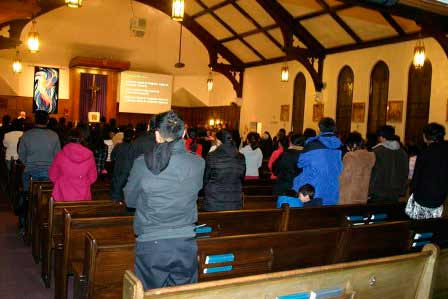 by:  Estrella "Ta2" Delos Reyes
On Friday, December 3, the annual Simbang Gabi in Calgary was led by the sponsorship of the All-Filipino Council of the Knights of Columbus Council 14746.  Guided by its Grand Knight  Rodel Nagera, the choir and men of the K of C started the night with Caroling.  The well-dressed Knights sang beautiful songs of Christmas and Faith-based favorites both English and Tagalog. There was also the Columbian Squires of the same Council who serenaded the faithful with their rendition of selected songs to celebrate the spirit of the coming Christmas. The sword-bearing K of C Honor Guards added a beautiful welcoming to our well-respected Filipino priest Fr. Rudy Badiola who celebrated the mass.
SIMBANG GABI is a popular tradition among the many customs and traditions that the Philippines is known for.  Mass at Dawn as translated in English,  Simbang Gabi is a nine-day novena to the Blessed Mother. Many Roman Catholic churches across the country open their doors shortly before the break of dawn to welcome the faithful to the Simbang Gabi mass.  The novena begins December 16 as early as 4 in the morning and ends with the "Misa de Gallo" on Christmas Eve to welcome the birth of Jesus Christ.
While this is how Simbang Gabi is celebrated back home, it is quite different with the way we do it here in Calgary.  As the weather in December covers the winter season of the country, it is difficult to apply this "break of dawn" tradition as the cold and freezing air will deter many to complete such task. But nonetheless, we celebrate it even though it is in a different manner.  The essence and thought of the same tradition is carried over just the same.
One of the significance of Simbang Gabi is to strengthen relationships between families and friends.  It is most of all a gauge to intensify our relationship with the Lord as we prepare our faith in welcoming the birth of Christ. It is a significant moment not only because it makes relationships stronger among family members, but also because it is the time where our faith is intensified. This is the time where we mostly feel the presence of the Lord because it is the spiritual preparation for Christmas – The Birth of Christ.
The mass schedules all over the various Catholic churches in Calgary were first announced from the November issue of Pinoy Times. We certainly hope that many Fil-Calgarians were able to express their Catholic faith by partaking in this chain of Simbang Gabi. My gratitude and respect goes to the organizers and participants who never cease to amaze me during these times. It makes me truly proud to be a Filipino.