Pinoy Times celebrates its 2nd Annual Paskong Pinoy 2010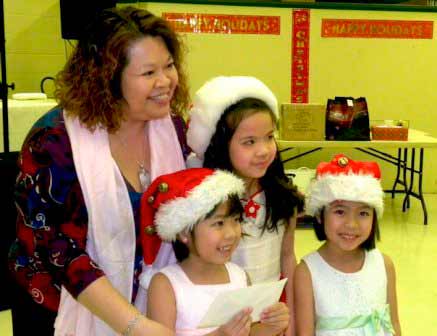 While everyone in Calgary was busy doing their Christmas shopping, on Friday, December 10th, at 6:00 PM, in the main hall of the Huntington Hills Community Center, the Publisher and staff of Pinoy Times were celebrating its successful year the second time around. The year 2010 was full of fun and surprises, and Connie Kriaski did not leave her staff go unnoticed.  Aside from giving them the credits, much were to do with the commitment and dedication her advertisers had given to the success of this monthly news missive. Without their unending support, the monthly circulation would not be as successful as it is today. From a little over 20 pages in the past, the paper had grown to as much as 35 to 44 pages. This is a milestone indeed for a newspaper publication that was only once an idea.
Advertisers are the key ingredient in getting the ball rolling to have a successful newspaper business.  There are also members of the community that we should be aware about.  The readers and followers from all walks of life that supports the "What's what and Who's who in our Community", the key personalities as well of our government, who strongly believe in what the newspaper's ideologies, are important part and parcel of this whole circle of delivering news and entertainment to the public.  Such is one fine lady Ms. Teresa Woo-Paw from the Progressive Conservative MLA for Calgary-Mackay, whose presence at the celebration graced the evening with a very important reminder to all the Filipino Community that unity,  such as what we have at the moment, is truly a positive trait everyone should carry.  And this is what the Publisher of Pinoy Times had emphasized over and over again in her endeavor to create balanced news at all times.
The evening was filled with the Christmas Spirit of Giving. Of gifts and thanks that is. There was the Christmas Children Carol Grand Finals that brought much joy and happiness to everyone watching how little children rendered their favorite Christmas songs.  The cuteness of such event brought glow and added much awaited entertainment.  There were the children of the K of C All-Filipino Council's special presentation of Christmas Choir and hip hop dancing. The food was as always superb with the array of Filipino dishes that covered the entire two tables. Can anyone argue that the traditional "Lechon" is still the best among the rest?
The raffle draws of prizes were the core of the night's superb celebration.  With the LCD flat screen TV at stake, people stayed behind to enjoy the night with singing and dancing galore.  To everyone's delight, a table of 10 people was blessed with so much luck that they have mostly bagged the prizes up to the end with the grand one being taken home by one of them.  What a night!!!
Special thanks to donors, Ms. Jenny Bungay, Ms. Jessica Taburada, Mr. Alex Tumang, Mr. Adonis Caballero, Ms. Juvy Terbio, Bhe-Bhe Filipino Store, Nikki Macaraeg of Globalfest, Ace Travel, Tamarraw Seniors, Mr. and Mrs. Gary Frost, Ms. Carmen Baladad of I-Remit, Mr. Ferran Capco of Visions, Ms. Melissa Holman of TFWA, Ms. Luisa Fontanilla, Ms. Bella Amangyen and Dr. Mary Galiza, Mr. Jun David of Read Distribution, UMAC EXPRESS CARGO, PLATINUM MITSUBISHI.  And a big thank you to our caterer, ROLYMIE BAKERY and to our DJ, Ronel Javier of ROLYMIE SOUNDS.
Congratulations once again for a job well done.  Another  year of success and a new one to look forward to. Merry Christmas to all!!!!