Meet & Greet with Joey Albert – A mini concert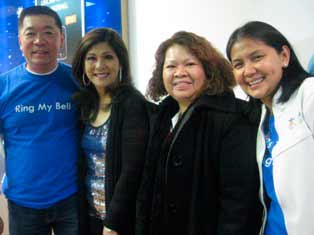 Times Telecomm Celebrates at Pacific Place Mall in Calgary
by  Estrella "Tata" Delos Reyes
Times Telecom marked another important day at the Pacific Place Mall in Calgary last November 18 as they celebrated the grand opening of their retail store via a Greet & Meet event plus mini concert with the popular songstress from the 80's – Ms. Joey Albert.  Local talents joined in to help celebrate this important occasion.  The store would serve and cater to the many Filipinos situated in the Northeast quadrant of the city.
Thanks to our fellow "kababayans" Gigi Astudillo and Ryan Ferrer who tirelessly accommodated the success of the show. Marketing such huge Company requires dedication by such individuals who believes in what the Company can offer its buyers and followers. There was the opening from Pinoy Time's very own Allan Torres who rendered his fave songs as he sang them acoustically with his well-taken-care of guitar, and the short hip hop presentation by some of the kids from the Columbian Squires of our very own All-Filipino Council 14746 of the Knights of Columbus headed by Kurt Rubiano and Nikki Chicote.
Times Telecom is a leading retail Long-Distance Service Provider that provides a one-stop telecommunication shop for next generation Internet and telephony solutions. The products are quite extensive and services include wireless telephony, 1-800 telephony solutions, domestic and international long distance voice and fax solutions, voice over Internet Protocol (VoIP), and other integrated telecommunication services.
This state-of-the-art proprietary network allows its residential and corporate customers to communicate with friends, business associates, and loved ones all over the world while enjoying substantial savings whenever they make long-distance calls to Canada, the United States, or to over 300 countries/destinations in the world.
Using traditional and Internet Protocol (IP) technologies, its network currently spans 16 cities in Canada and 2 cities in Australia, with a separate nationwide network dedicated to providing direct dial service to its Canadian and Australian markets.
Times Telecom boasts of its High-Quality, Low Cost, Reliable, Extensive Range, Flexible and User-friendly features. By owning its own network to various countries, and through the use of the Internet as its primary backbone, Times Telecom is able to offer calling plans and rates that are lower in cost to consumers whilst maintaining superior voice quality.
We certainly look forward to a successful venture in Calgary and truly hope that our "kababayans" here in Calgary will extend their support to Times Telecomm. Visiting them for sure will allow us to know more about their great service and latest offers that may just very well adapt to our ever changing needs. Affordability and Reliability, that's what Times Telecomm is all about.