AN OPEN LETTER TO THE FILIPINO COMMUNITY BY GIL UY ZALSOS, THE ONE AND ONLY BROTHER OF JOEL UY ZALSOS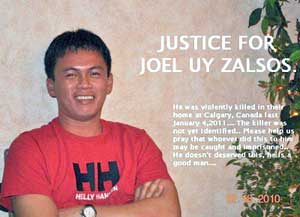 It has been on the news since January 5th when Joel Uy Zalsos met his untimely death here in Calgary after arriving on December 7, 2010 from the Philippines to rejoin his wife who has worked as a nanny.
Thru the popular site, Facebook, I was able to get hold of Joel's brother from Iligan Ctiy, Philippines, Gil Uy Zalsos and managed to get an open letter of appeal to our fellow Filipinos for moral and financial support.
Please read thru this open letter and any help extended will definitely go along way for the Zalsos family especially to bring back Joel's body to his homeland, the Philippines.
"Thank you Connie for your concern and offer to publish in Pinoy Times of what happened to my only brother ( Joel Uy Zalsos ).
You know, he is my only treasure when both our parents died when we were small boys. My brother is very2x special to me as we survive to live without parents but with the guidance of our relatives.  He is my inspiration when I was young and I owe to him of what I have accomplished as a man or a better person today.  Until now, I cannot accept of what had happened to him and I don't know when is the time to heal this wounds. I think it is forever.
Maybe I will ask help from our God Almighty to give me enough strength to overcome this problem. It really hurts me because he is a very good brother to me as well as a very kind man to all of my relatives and our friends.
I would like to ask help to all the Filipino people in Calgary or in whole Canada to help us bring Joel to our home place in Cagayan De Oro,  Philippines thru your financial, moral and spiritual support.
Help us also find the criminal so that justice will prevail.
Thru your help this will help us heal the wounds.
GIL ZALSOS
To all relatives and friends,
Marilyn Mawdsley went to the bank today ( Divina Caburatan Zalsos first employeer ). This is what is required for wire transfers:
SWIFT Code: ATBRCA6EXXX
Bank Name: ATB Financial
Branch Address: 480 Crowfoot Crescent NW
Calgary, AB T3G 5H7
Institution: 0219
Beneficiary Account Number: 07749135477901
Beneficiary Name: Saret, Rhea Gutierrez in Trust
Beneficiary Address: 1123 18 Ave NW, Calgary AB T2M0W1
In Canada just "Saret, Rhea in Trust" at ATB Financial is all that is needed.
To all relatives and Friends:Update of Joel Zalsos
Joel's body is now in transit from Calgary ,Canada to Manila,Philippines
Depart Manila -PAL Flight PR 183 January 24,2011 at 09:35 AM
Arrive Cagayan De Oro – January 24,2011 at 11:10 AM
His body will be brought to Iligan City Cosmopolitan Funeral Homes for two days and then to Gimangpang .Initao Misamis Oriental at our grandmother's house for two days.
Interment is schedule on Friday 9:00 AM on ,January 28,2011 at Initao Cemetery
Thank you."
Photos provided by Gil Uy Zalsos.